War Museum
Last item added: 04/05/17
Choose some war-era music to accompany you as you go through the museum.
---
Freedom is never more than one generation away from extinction. We didn't pass it to our children in the bloodstream. It must be fought for, protected, and handed on for them to do the same, or one day we will spend our sunset years telling our children and our children's children what it was once like in the United States where men were free.

Ronald Reagan
It has been a longtime dream of mine to own a war collection. I have been fascinated by war from a very young age. Over the past several years, I have recieved and purchased several historical pieces that I am using to jumpstart my collection. Most of the items came from personal purchases online, such as eBay, or as gifts from relatives or my grandmother. It's a stretch, but I would like to one day start a museum with my collection, or have an epic man cave.
Much of my museum focuses on World War II. It is the deadliest war in history, ever. Estimates put the total death toll between 60,000,000 and 85,000,000 people killed as a result. Many people gave their lives to uphold many of the freedoms we enjoy today. I believe it is our duty, as a people with the priveledge of knowing many of these war heroes, to mirror the stories, history, and impact onto future generations. As it is, my collection will continue to grow. Check back every few weeks to check if any new pieces have been added. Enjoy!
Arthur Lodoen, 134th Infantry Regiment
About Arthur
My Great Great Uncle Arthur 'Art' Lodoen was a World War II veteran who served with the famous George Patton's Third Army, in the 35th Regiment, 134th Infantry from May 1944 through June 1945. He earned a Bronze Star in France and a Purple Heart in a seperate event. Click the link to learn more about his life and years of service.
M1 Garand
Pictures coming soon.
What can I say that hasn't already been said about the M1 Garand. For those that don't know about the M1 Garand, here is a paragraph from Wikipedia: "The M1 Garand is a .30 caliber semi-automatic rifle that was the standard U.S. service rifle during World War II and the Korean War and also saw limited service during the Vietnam War. Most M1 rifles were issued to U.S. forces, though many hundreds of thousands were also provided as foreign aid to American allies. The Garand is still used by drill teams and military honor guards. It is also widely used by civilians for hunting, target shooting, and as a military collectible. The M1 rifle was named after its Canadian-American designer, John Garand. It was the first standard-issue semi-automatic military rifle. By all accounts the M1 rifle served with distinction. General George S. Patton called it "the greatest battle implement ever devised".
The M1 Garand is exactly that. Many historians agree on two things about the M1 Garand; the first being that the M1 Garand is arguably one of the most well known weapons in history. The second being that the M1 Garand might have won the war for the Allies in World War II. It is without a doubt my favorite gun, and I spent many years dreaming of owning one, and in January of 2017, my dream finally came true after a 4 month backorder.
As a student at NDSU, I participated in the collegiate Marksmanship Club where I competed in competitive shooting events and even traveled with the championship team to Fort Benning. My experience with competitive shooting, as well as being a member at the local gun range, earned me the priviledge to order an M1 Garand through the Civilian Marksmanship Program (CMP). The CMP offers M1 Garand's to qualified individuals under the assumption that owners will cherish and respect the M1 Garand, which is indeed true in my case. After many forms and pages of paperwork, I sent my order in and received my very own M1 Garand from 1954, as well as a bayonet to accompany it. The stock is new, but the "gun parts" are all of original date. The sling and many en-bloc clips were given to me by my brother Nathan and his wife Morgan for Christmas 2016.
World War I War Bonds Poster
Pictures and description coming soon.
World War II Backpack and Harness
Pictures and description coming soon.
Mosin Nagant 91/30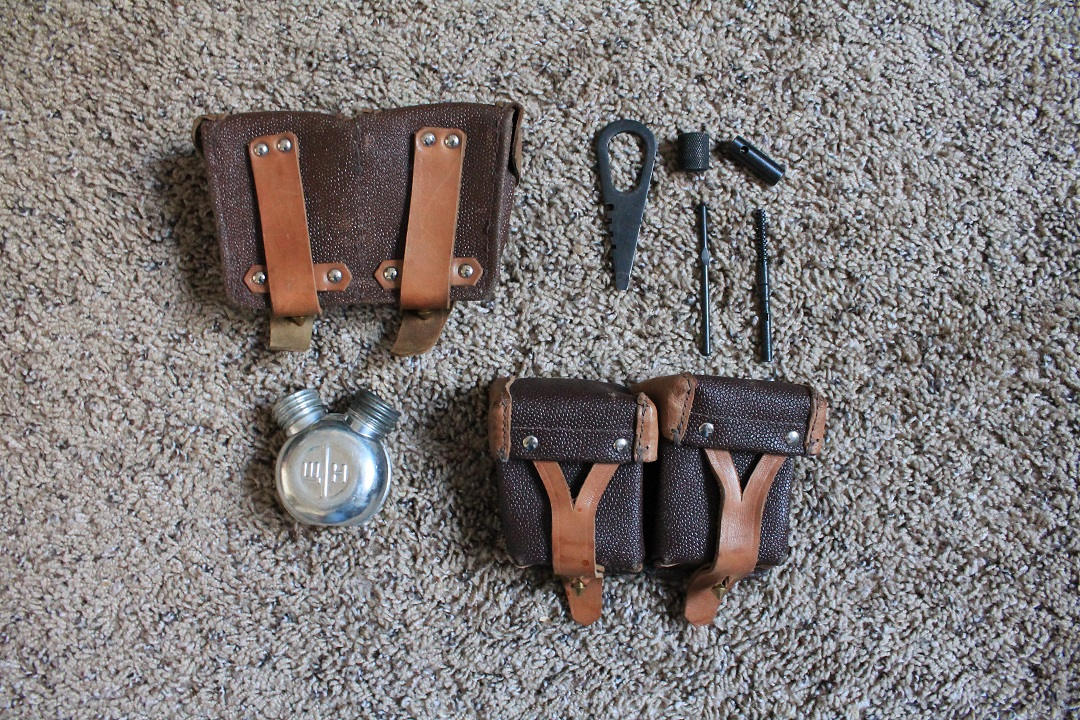 "The Mosin Nagant is a five-shot, bolt-action, internal magazine-fed, military rifle, developed by the Imperial Russian Army in 1882-91, and extensively by the armed forces of the Russian Empire, the Soviet Union and various other nations through World War II. It is one of the most mass-produced military bolt-action rifles in history with over 37 million units produced since its conception in 1891, and in spite of its age it has shown up in various conflicts around the world even up to the modern day, being plentiful, cheap, rugged, simple to use, and effective, much like the AK-47 and its variants. The Mosin Nagant features a 7.62x54R round."
I picked this up from BudsGunShop.com sometime around the summer of 2014 for a grand total of $140. The $140 included the shoulder strap, two ammunition satchels, and a retro tools for taking the gun apart and oiling. It was a heck of a deal for a piece of history, and it came in really good shape. It's already rising in price. Shooting this guy is a ton of fun. It kicks like a buck, and you can feel the power it delivers. This gun was often used as a sniper rifle, as it has the power and the range to cover ground. It's very accurate for its time. In addition, the bayonet adds another layer of history. Bayonets aren't used much anymore, if at all, and having a old bolt action rifle with a quality bayonet is something you can't let go. I suggest getting one while you still can.
World War II M1 Helmet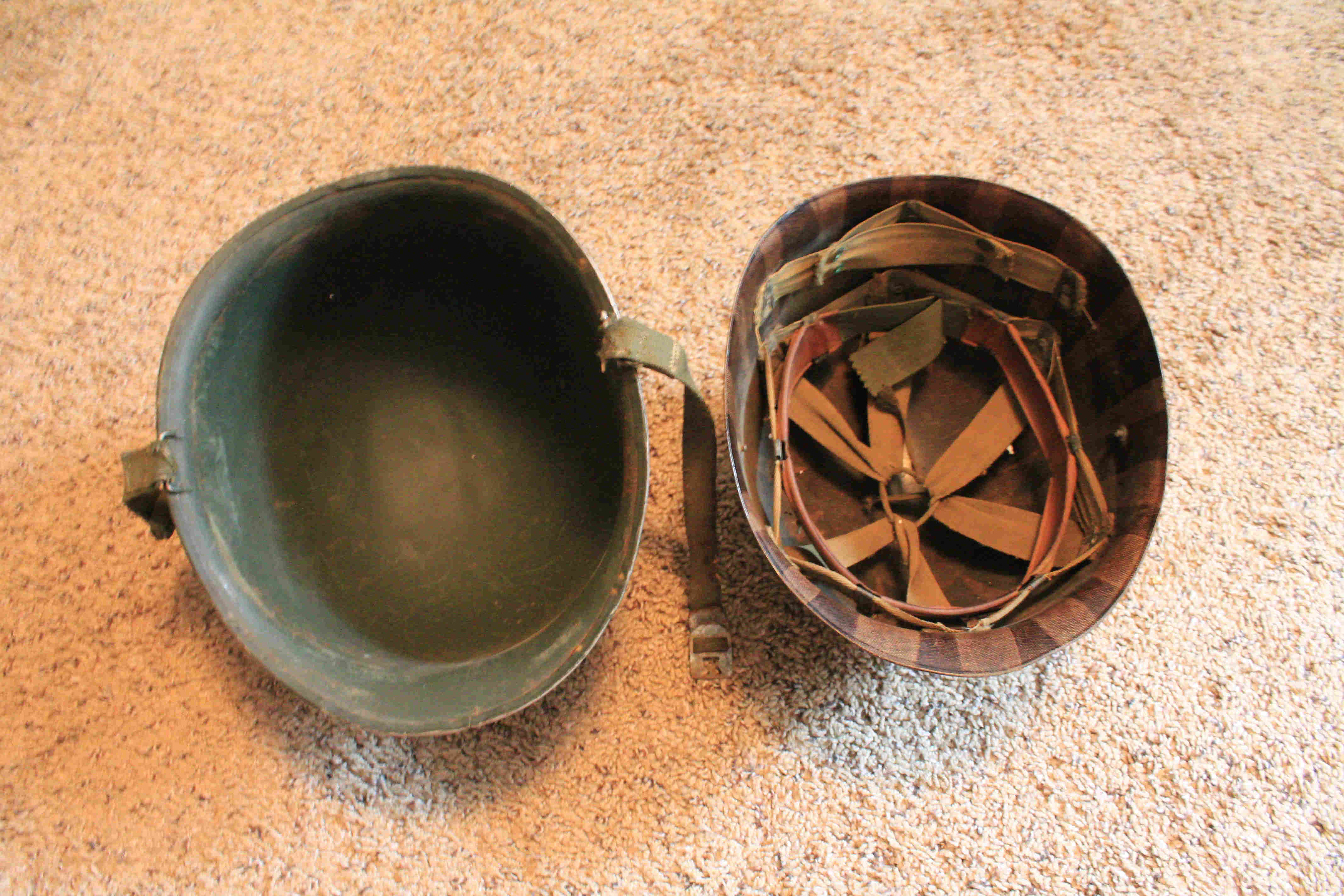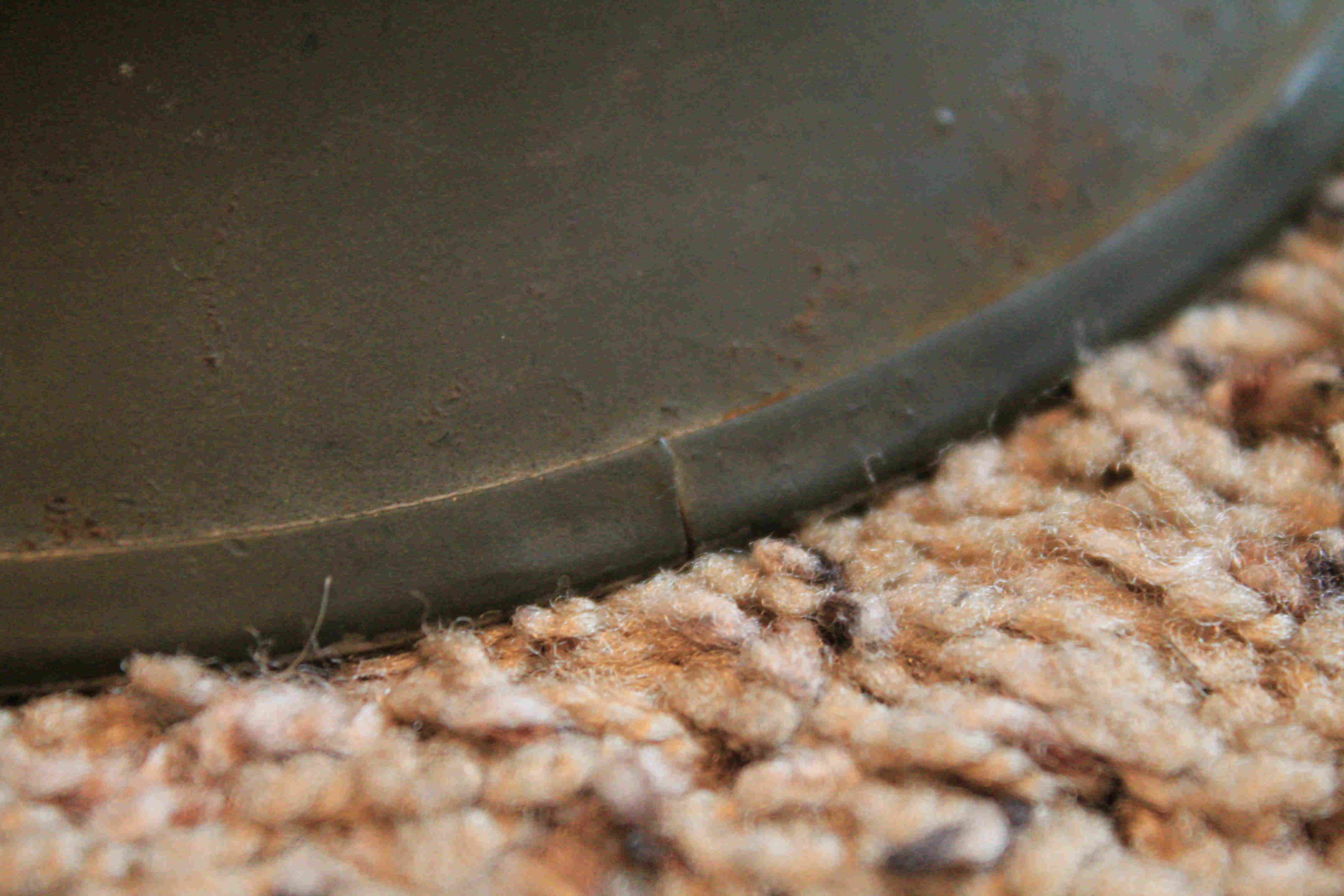 I picked up this genuine World War II M1 helmet through an auction on eBay, and won it for a pretty low price compared with what they are usually sold for. The M1 model was used predominantly through World War II, Korea, and even into the Vietnam war, athough a different variant was used in Vietnam.. To determine the era of a helmet, you can look at the seam and the bales. If the seam is placed in the front of the helmet, and not the rear, the helmet is World War II or Korea. If the bales, the hooks that hold the chin strap, are fixed and not swivel, that is also another indication that the helmet is pre Vietnam. It gets more complex than that, including color patterns, how the straps are sewn on, and more, but you can bet this helmet was produced during World War II and was used either in that war or in Korea, or maybe both.
The M1 was used in all soldiers' field uniforms, and features two seperate pieces: the shell and the liner. The two can be seperated, making the shell convienient for use as a shower bucket, hauling food, and more. The liner is placed directly into the shell, and although my helmet is missing it, there is usually a strap that goes from the inside liner across the front of the shell and back into the liner to hold the two in place.
There aren't too many of these around anymore, and for the price, I was very excited to have this added to my collection. It even fits my head!
World War II Entrenching Shovel & Cover
Designed to be easily carried as part of an infantry soldier's standard pack equipment, this 'entrenching tool', or shovel, is a collapsible spade used by the military during World War II. Entrenching tools are still used today in our military, but this one originates from World War II; notice the stamped 1944 on the blade. The folded design became very popular after World War I, and included a fixed handle, folding shovel head, and cover that can be attached to a belt or backpack. Many soldiers called this tool 'indispensable' in the field, using it to dig trenches, fox holes, and even sometimes as a weapon.
This shovel, along with a few insignia patches (see Arthur's page), were given to me as a donation from a user on Reddit with the username /u/Nostophical. His generosity is sure to carry him a long way in life. Thanks /u/Nostophical!
World War II Army "Ike" Uniform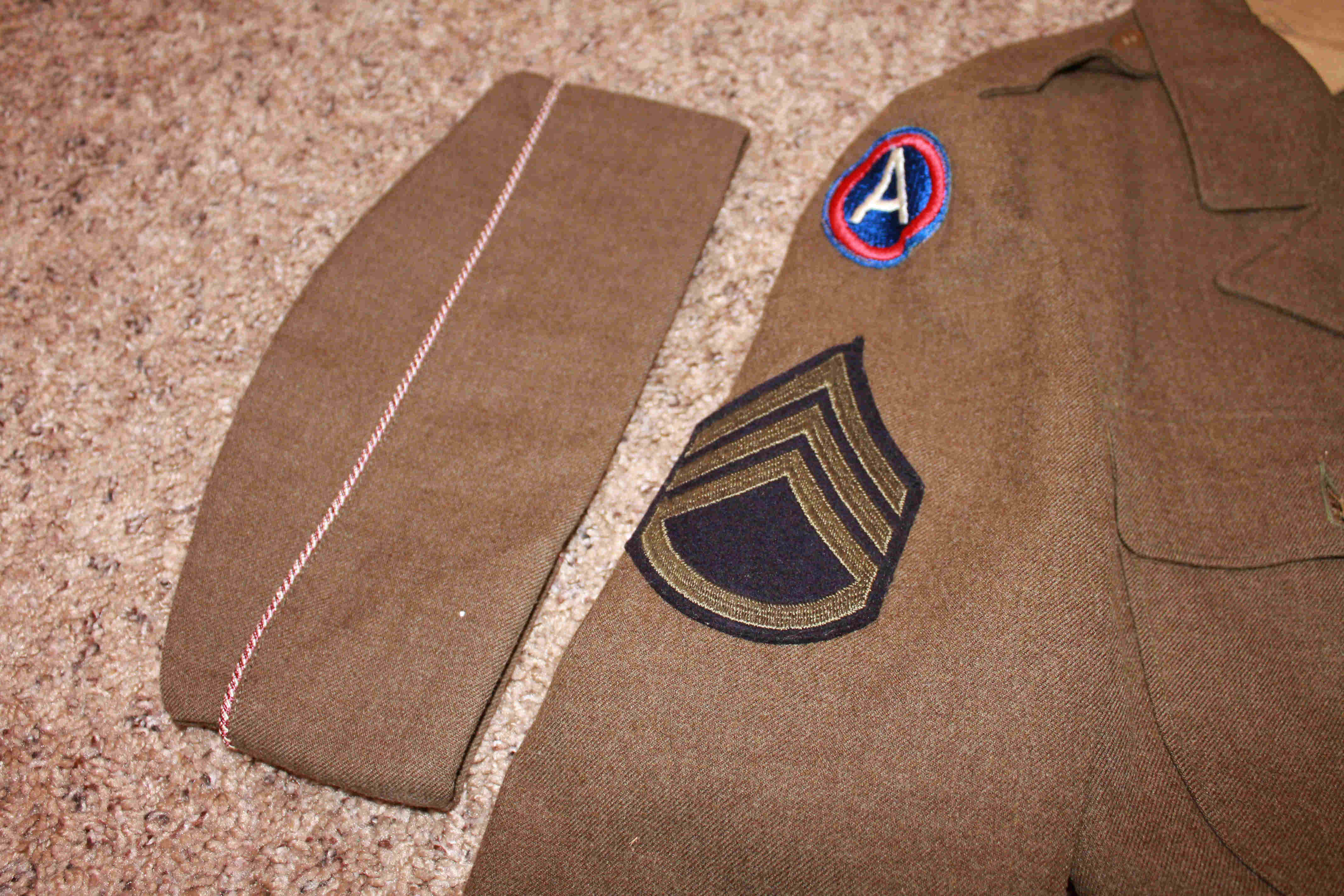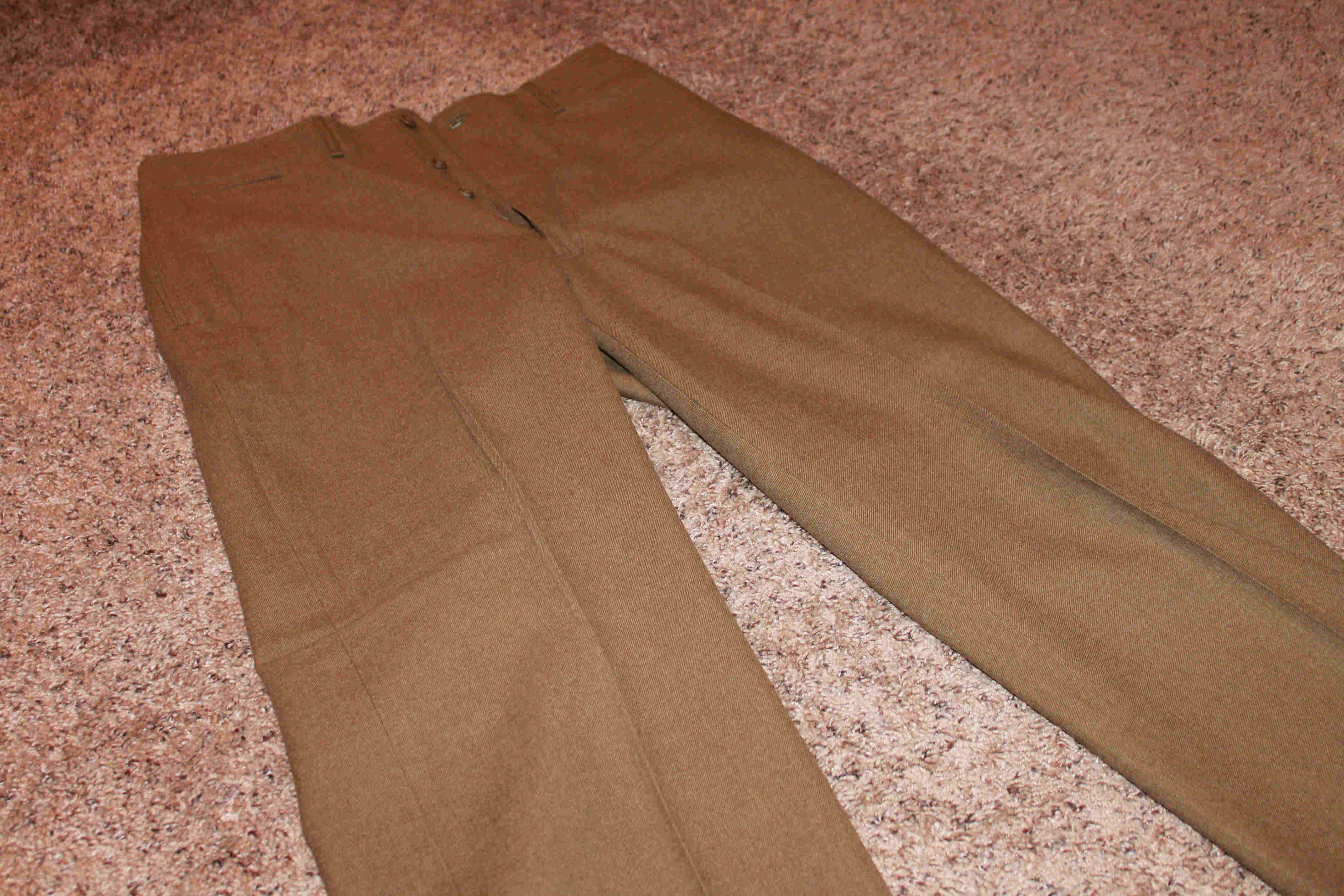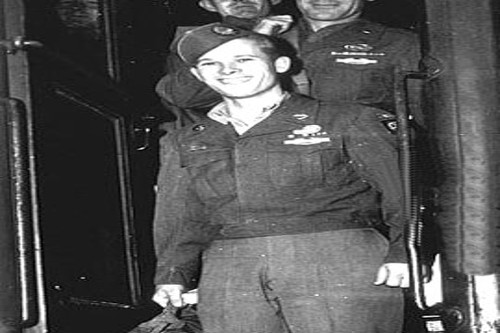 I picked up this World War II uniform from an eBay auction. The uniform top is called an Eisenhower jacket, or "Ike" jacket, and is a type of waist length jacket or blouson developed for the U.S. Army during the later stages of World War II. Intended to be worn on its own or as an insulating layer beneath the M-43 Field Jacket, it featured a pleated back, adjustable waist band, fly-front buttons, bellows chest pockets, slash side pockets, and shoulder straps.
The insignia on the right shoulder identifies the uniform as that of a 3rd Army Staff Sergeant. The seller on eBay informed me that it belonged to a soldier by the name of Sergeant Peters from Morro Bay, California. The piping on the cap matches with that of the Engineer Corps (Scarlet Red/White). The patches on the bottom of the left sleeve are used to indicate the years of service. A golden horizontal patch signifies six months of overseas service, whereas the angled patches signify one year of service, meaning Sergeant Peters was in the service for over three years and spent a year and a half overseas. The picture in the lower right shows a soldier wearing a uniform similar to this one.
World War II Army Air Force Uniform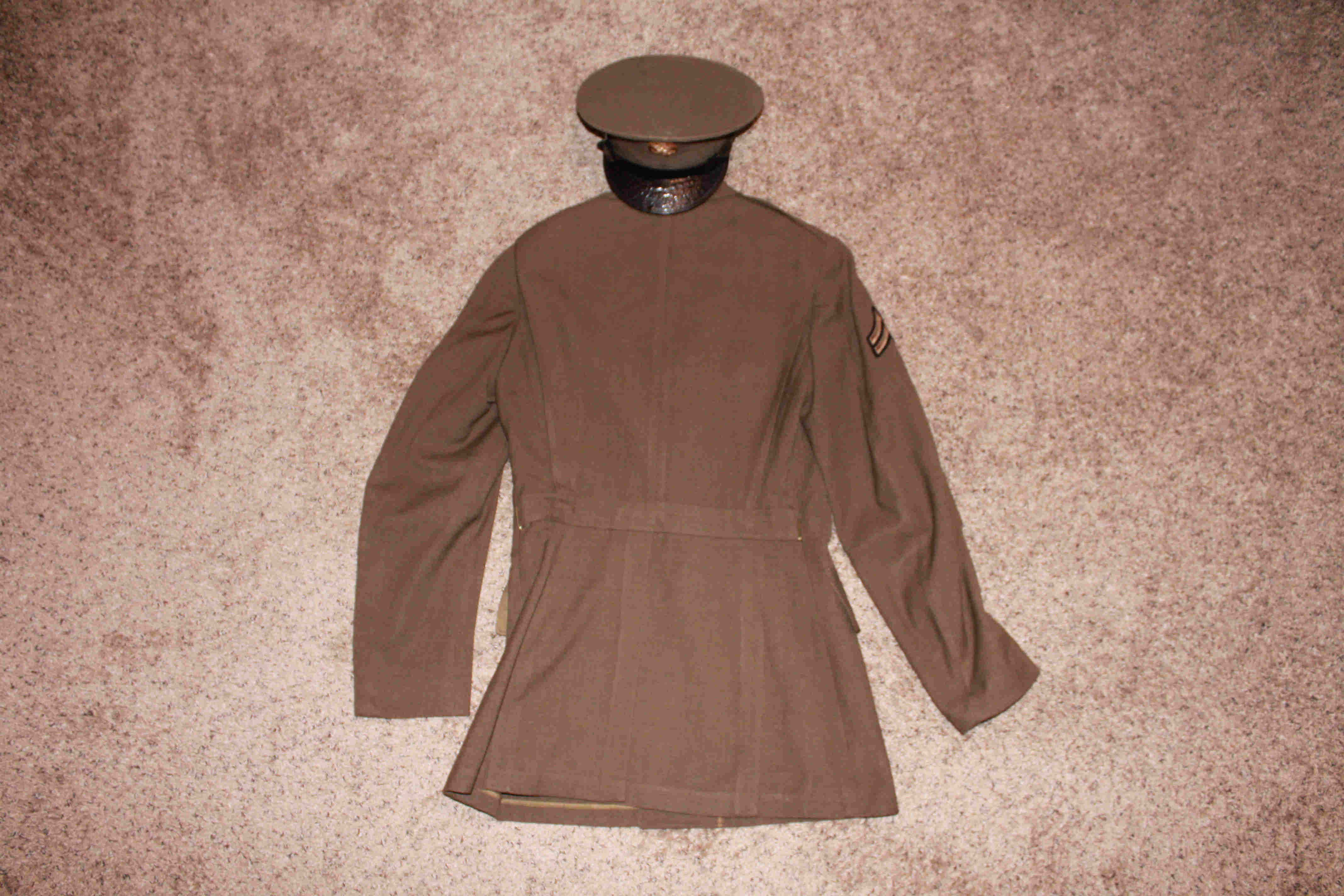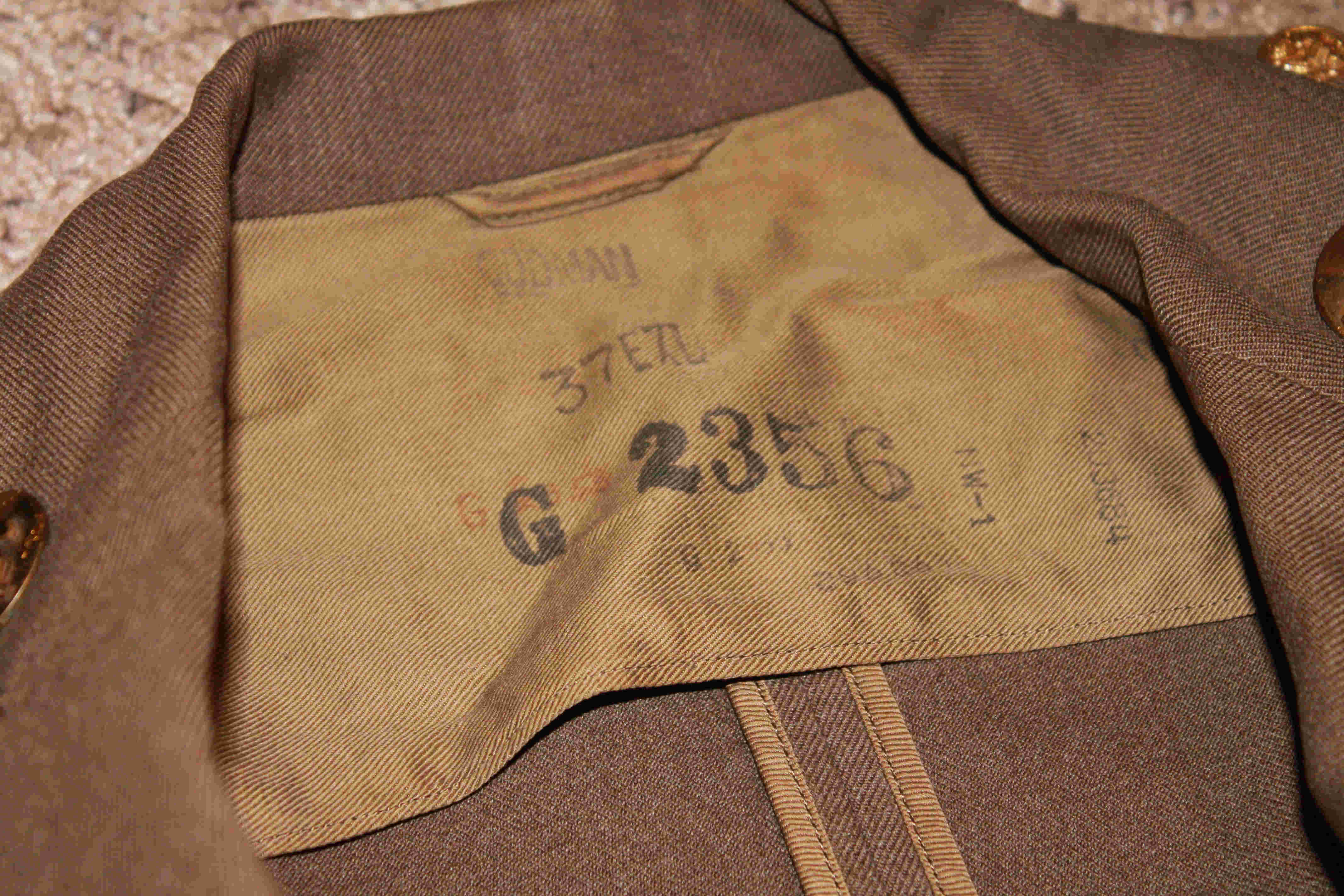 The United States Army Air Forces was the direct predecessor of our current United States Air Force. Active from 1941 to 1947, the United States Army Air Forces was a component of the United States Army. This uniform's arm patch identifies it as a member of the 'First Air Force' which combated the German U-Boat threat along the Atlantic Coast in the initial months after the Pearl Harbor attack. Beginning in May 1942, the mission of the 'First Air Force' primarily was to provide operation unit training, prepare replacements for deployment overseas to combat theatres, and training for bombardment, fighter, and reconnaissance operations. The rank patch identifies the uniform as that of an enlisted '5th Grade' Corporal.
I purchased this uniform from an auction on eBay. The buyout price was a bit high, so I made the seller an offer of about half of the original price. They accepted, and soon I was home opening the package as fast as I could. This is the first uniform of my collection, and I love how clean it is. The photo on the bottom right is a young fellow wearing an enlisted Army Air Force uniform identical to mine.
World War II U.S. Navy 'Dress Blue' Uniform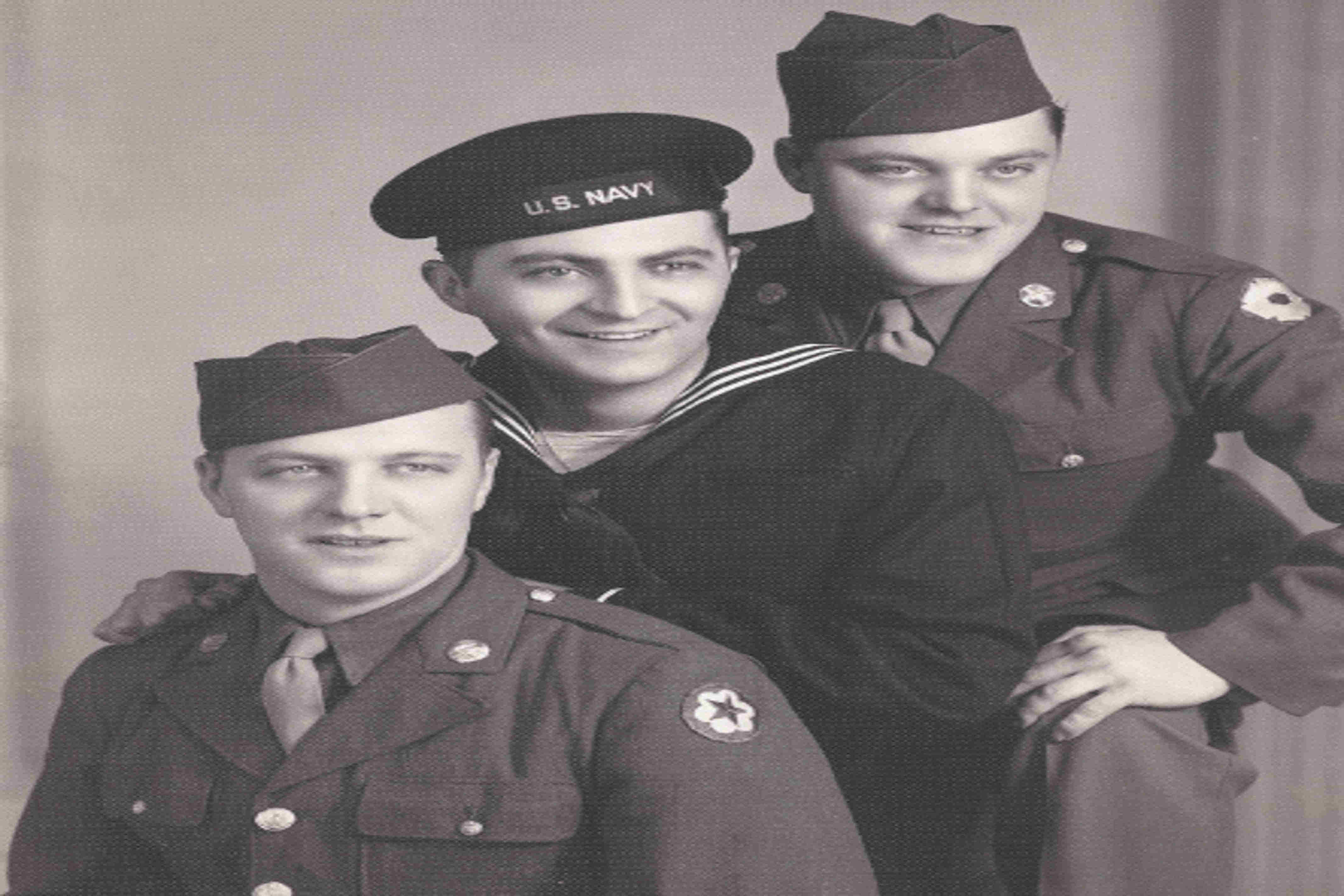 This is a World War II dated U.S. Navy 'Dress Blue' Uniform. The Dress Blue uniform was worn for official functions not rising to the level of full or dinner dress. They are also commonly worn when traveling in official capacity, or when reporting to a command. The yellow 'eagle' patch on the right chest is an Honorable Service patch (AKA the 'Ruptured Duck') that was warded to service members who were discharged under honorable conditions during World War II specifically. The patch worn on the left sleeve is the badge of a Petty Officer 3rd Class officer. Inscribed inside and at the bottom of the jacket is the name 'R J Woods'.
I also purchased this uniform from an auction on eBay. The seller included a note that they were happy it was going to a good home (I mentioned this website in my offer), and that made me feel good. The uniform is actually very small, like almost junior small. I picked up the hat in a seperate auction for a small price. In the bottom right picture, the man in the middle is wearing a uniform just like mine. Plus a tie. I'll have to pick one up.
December 7th, 1941 Newspaper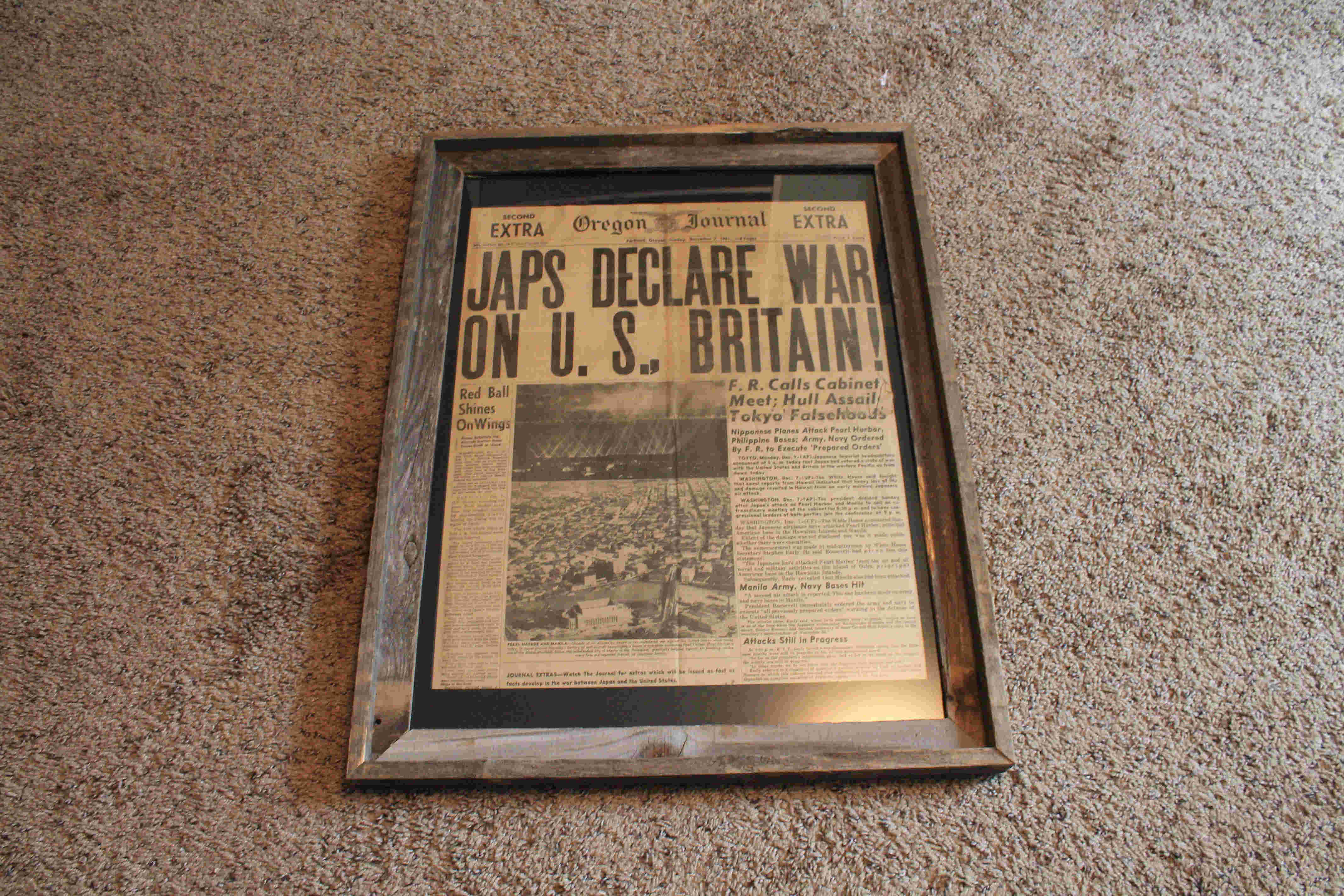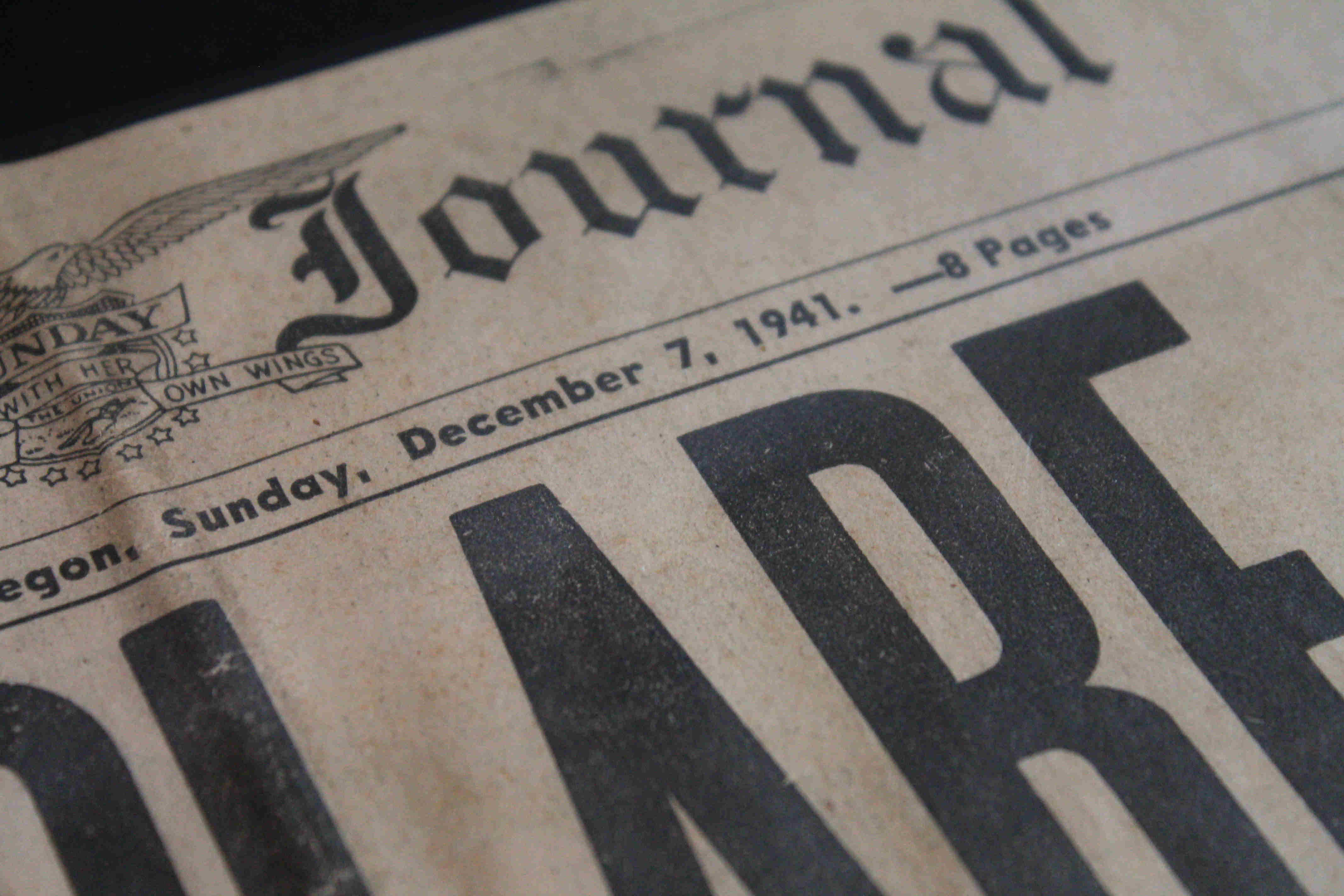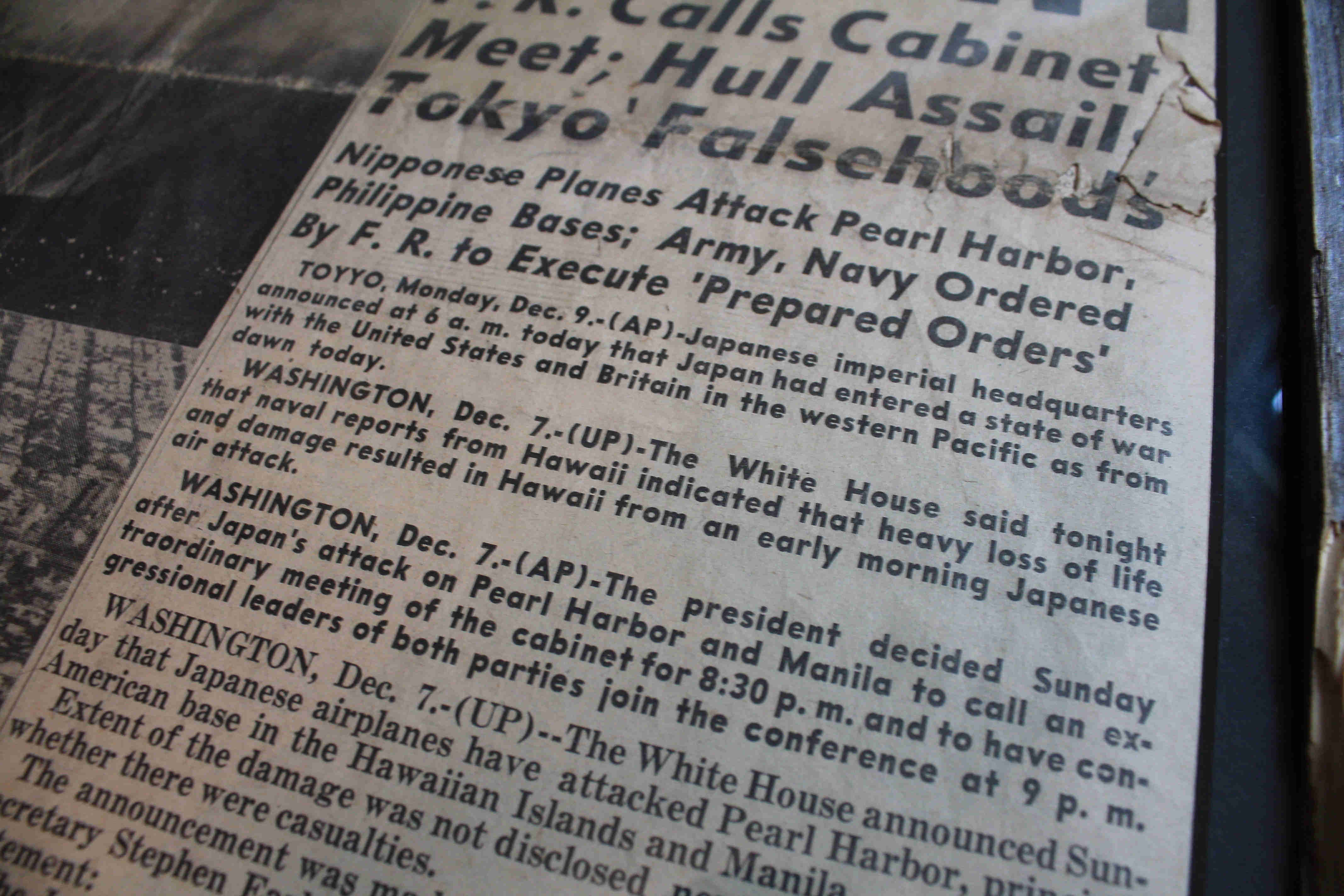 Another gift from my grandma Ann is this Oregon Journal newspaper dated Decemeber 7th, 1941; the day Pearl Harbor was attacked by the Japanese. The newspaper was released Sunday morning, as usual, but as news came in and the story developed, the newspaper released presumably two additional editions for that day. Hence, why it says 'Second Extra' in the top-right corner. Japan officially declared war Sunday evening (Monday morning Japan time), and this edition was printed shortly afterward.
This is one of my favorite pieces. As soon as I got it from my grandma I had it framed the next day. I wonder what went through the mind of the people that read these headlines leading up to 'the Day of Infamy' and after. We live in much different times today.
Nazi Germany Coin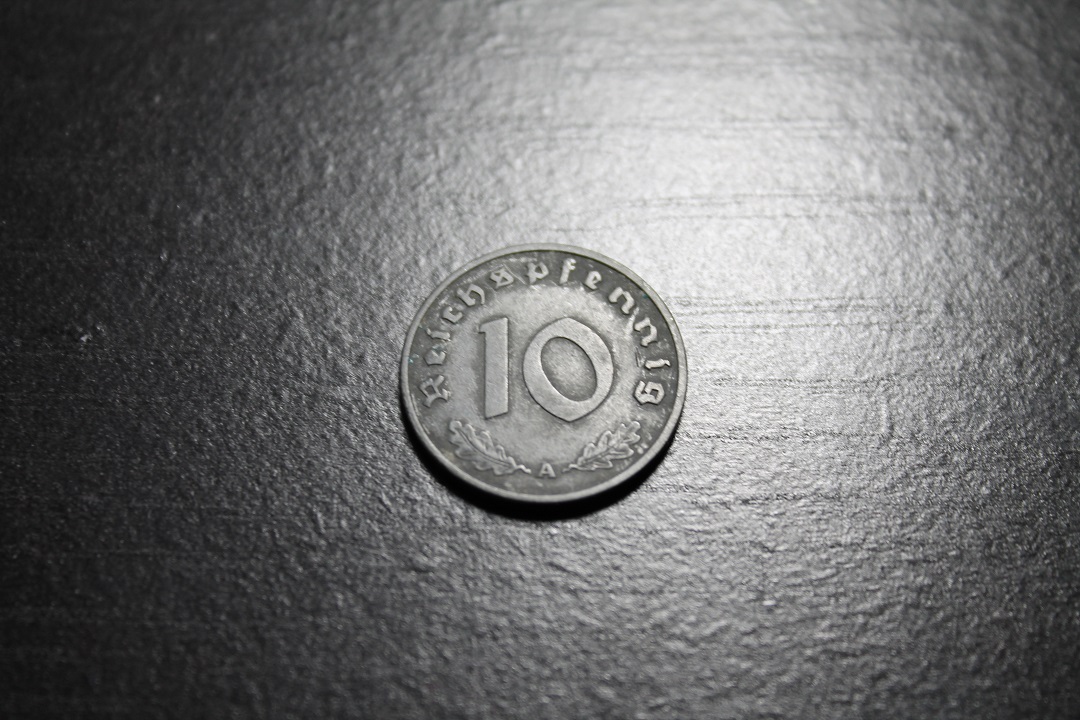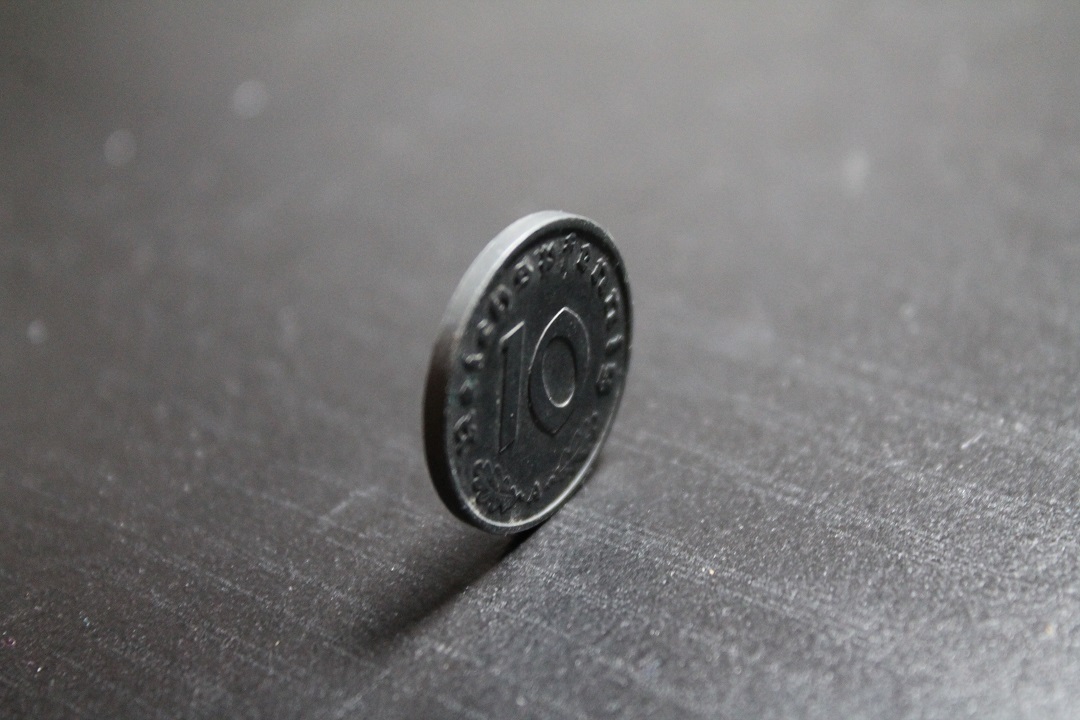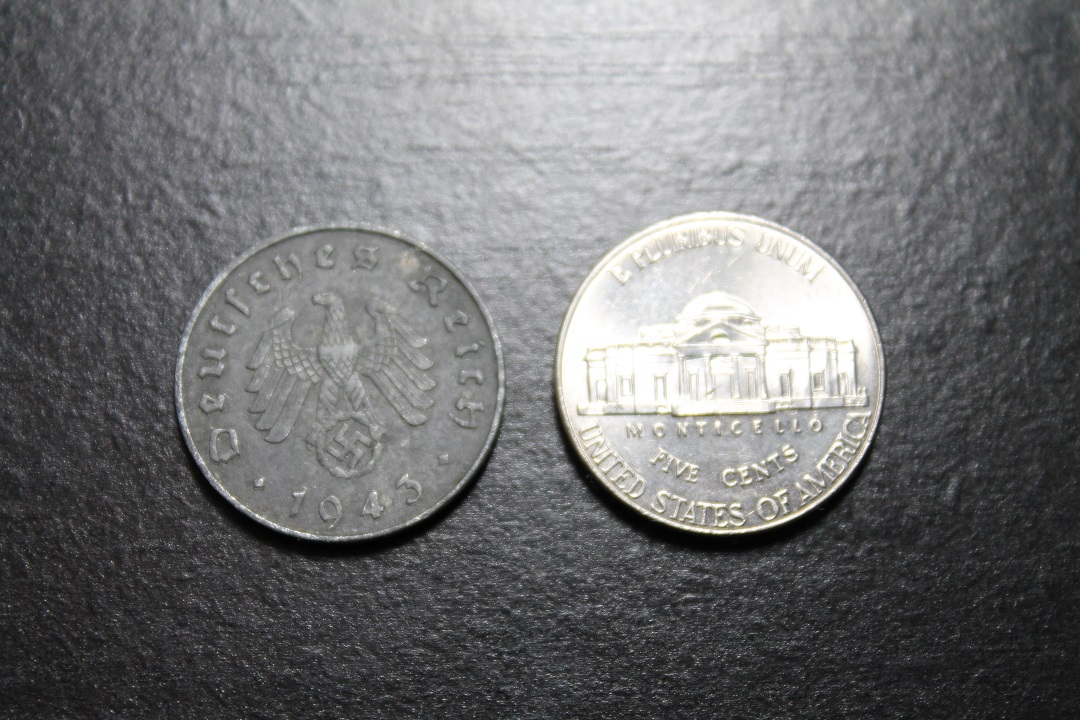 This Nazi Reich coin was purchased on eBay sometimes in the spring of 2015 for just a few dollars. The words "Deutsches Reich", meaning German Reich or German Empire, inscribed across the front face describe a time in German's history plauged by the Nazi Regime. Take notice of the Nazi Party's 'Swastica' at the feet of the Eagle. Dated in 1943, the back face contains the words "Reichspfennig", a unique currency minted by Nazi Germany from 1940 to 1945. This coin, with a value of 10, translates to roughly 1/10 the value of the German Reichsmark(1924-1948). Interestingly, the small A at the bottom of the back face is the official mint mark of the Berlin mint factory. 372,401,000 coins of this specific mint were created in 1943.
1942 World War II Canteen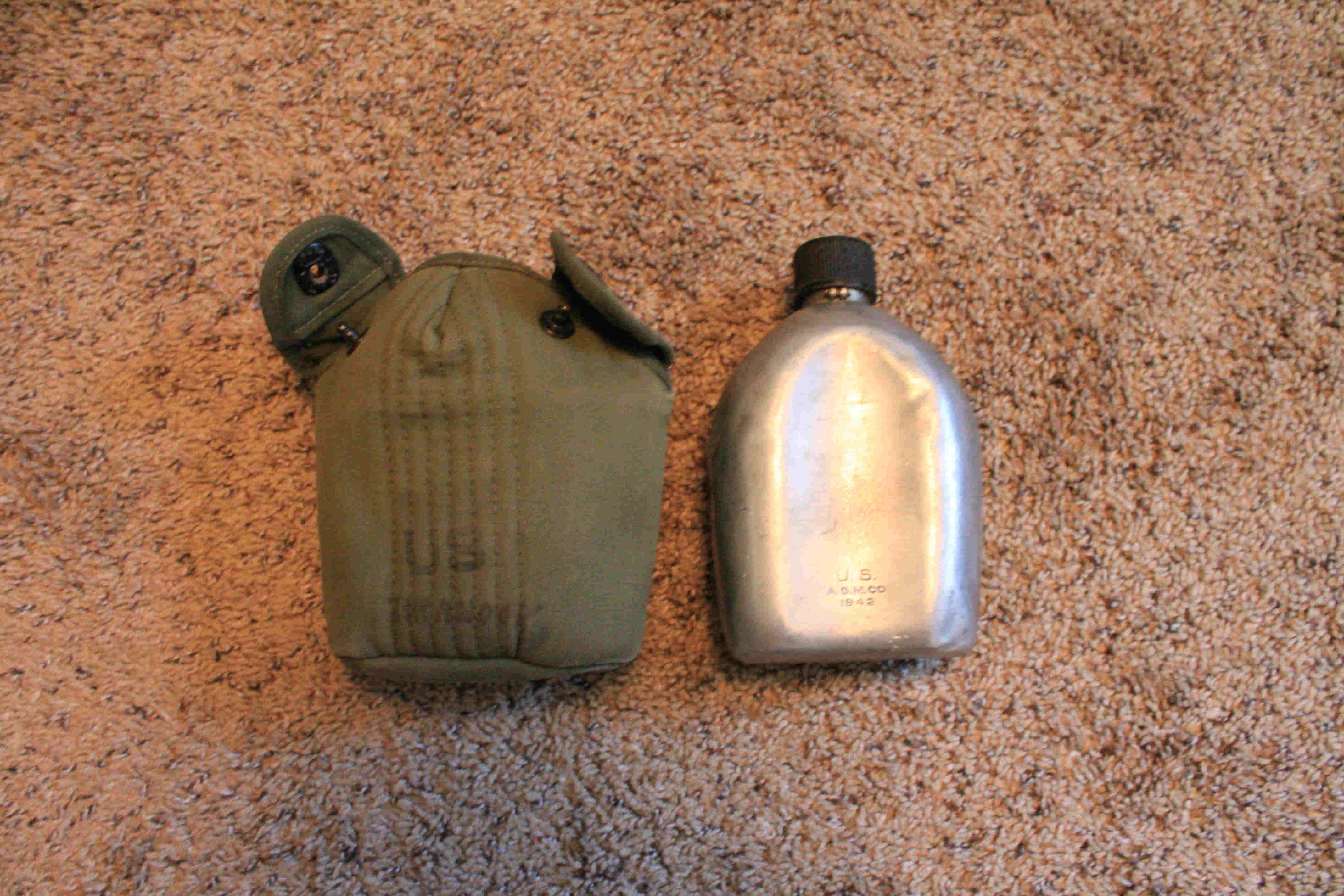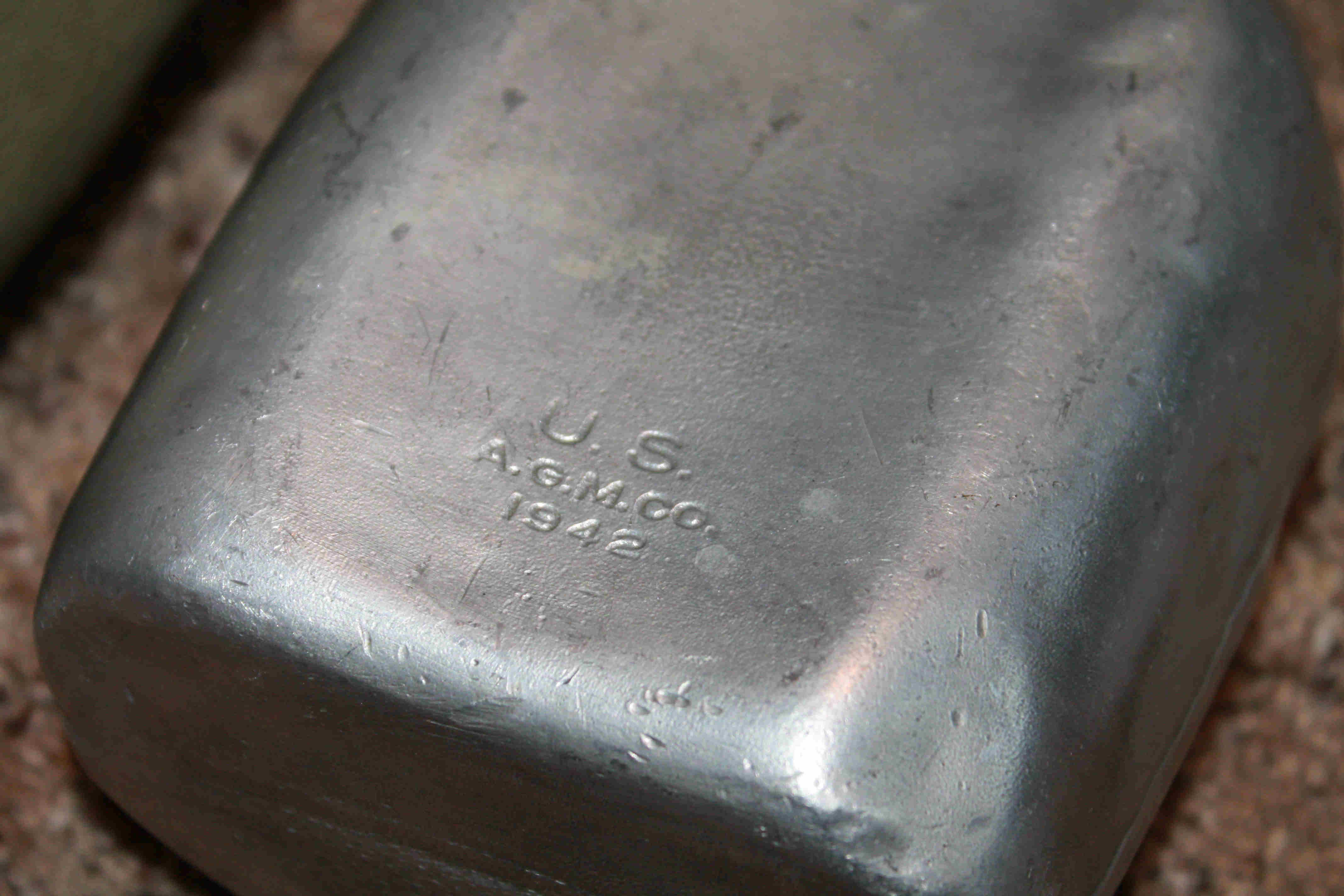 This canteen was another Craigslist deal. For a couple dollars from an older fellow, I picked up a genuine 1942 canteen. The canteen case bears the iconic U.S. stamp, and has the name 'Brannock' inscribed across the front and back. It's amazing how much water this thing can hold, taking several seconds to fill and even longer to empty out. On the bottom, it shows the A.G.M.C.O manufacturing stamp and the year '1942', obviously identifying it as from World War II.
1953 Jerry Can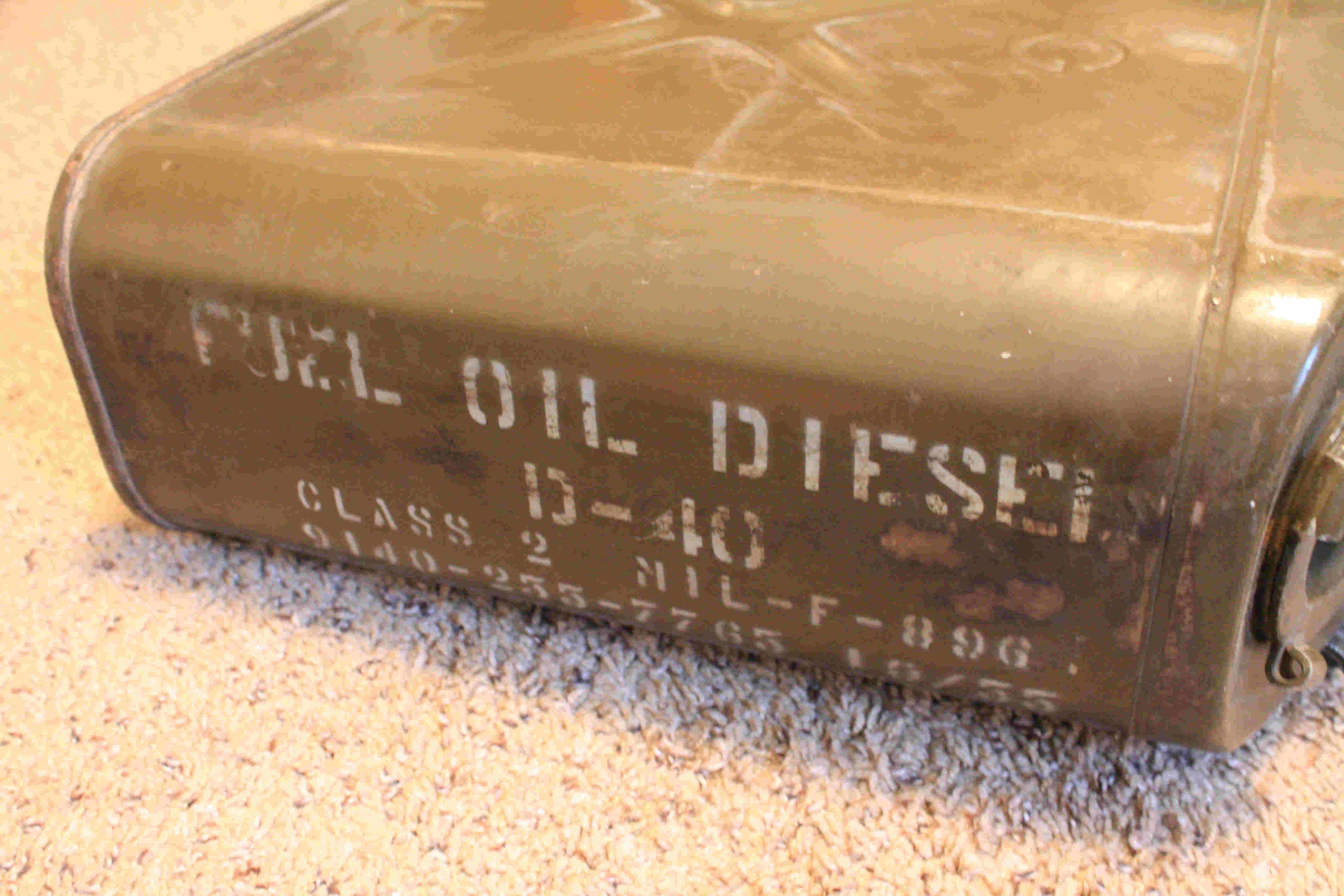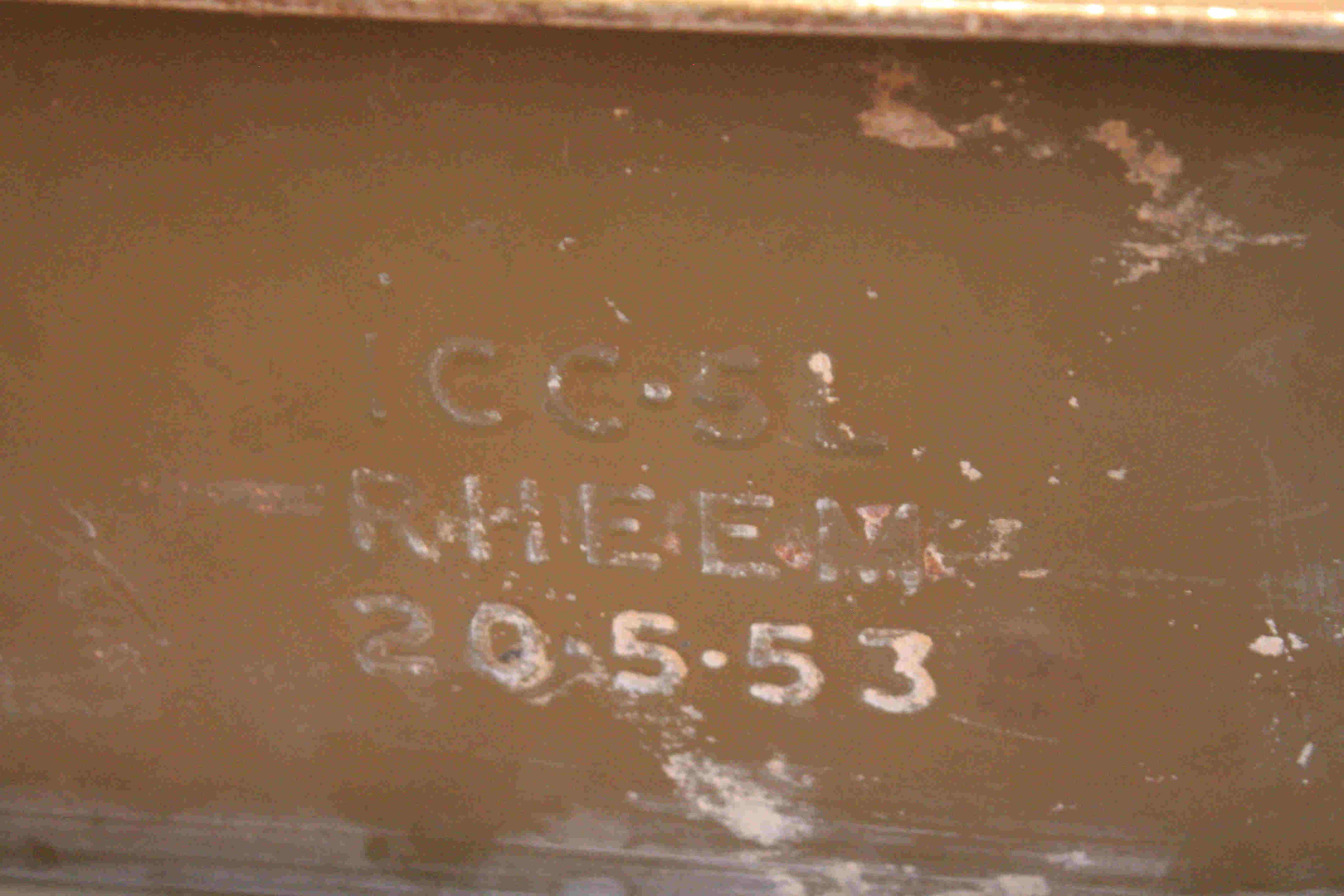 Originally designed in Germany in 1930's, a jerry can is a robust fuel container made from pressed steel that was built for use in the military. Adopted by the U.S. military, the jerry can was used heavily throughout World War II, and is still used today. The unique design of the handles allowed the container to easily be handled by one or two people, or movement bucket-brigade style. The jerry cans are commonly seen attached to old jeeps or tanks.
This particular jerry has a manufacturing date of May 1953, just two months before the end of the Korea War. There's no telling of whether it was used or not, but it definitely smells like it! After holding and looking at this, you realize they sure don't make things like they used to. This can was given to me as a donation by my good friend Colin. Thanks Colin!
World War I Pictorials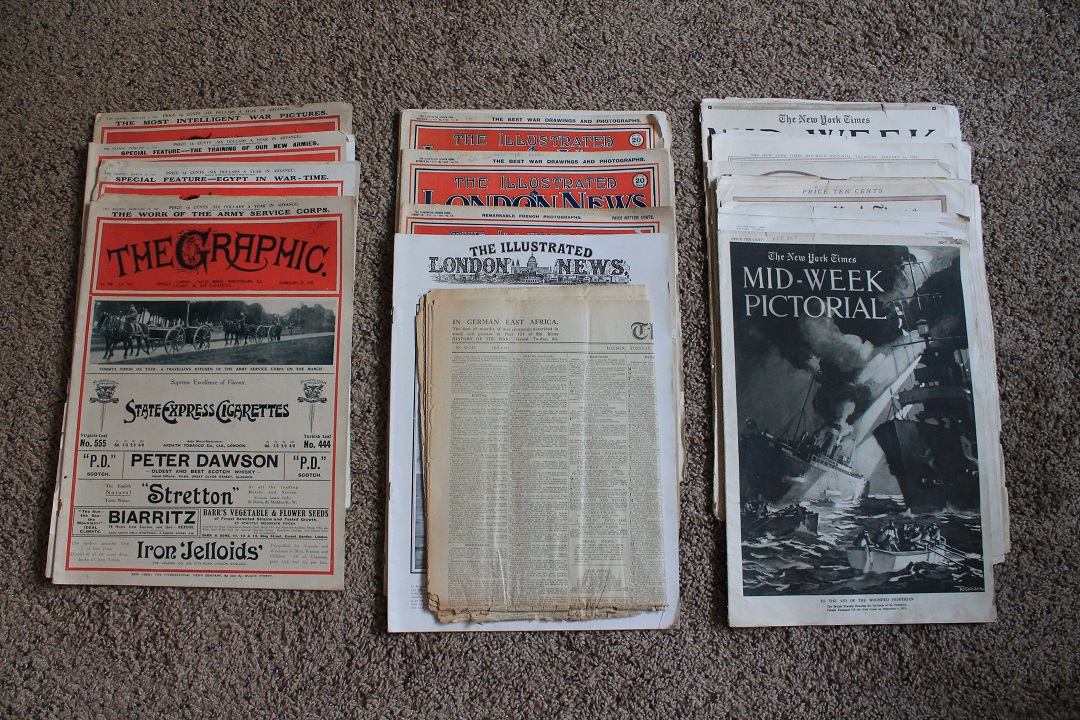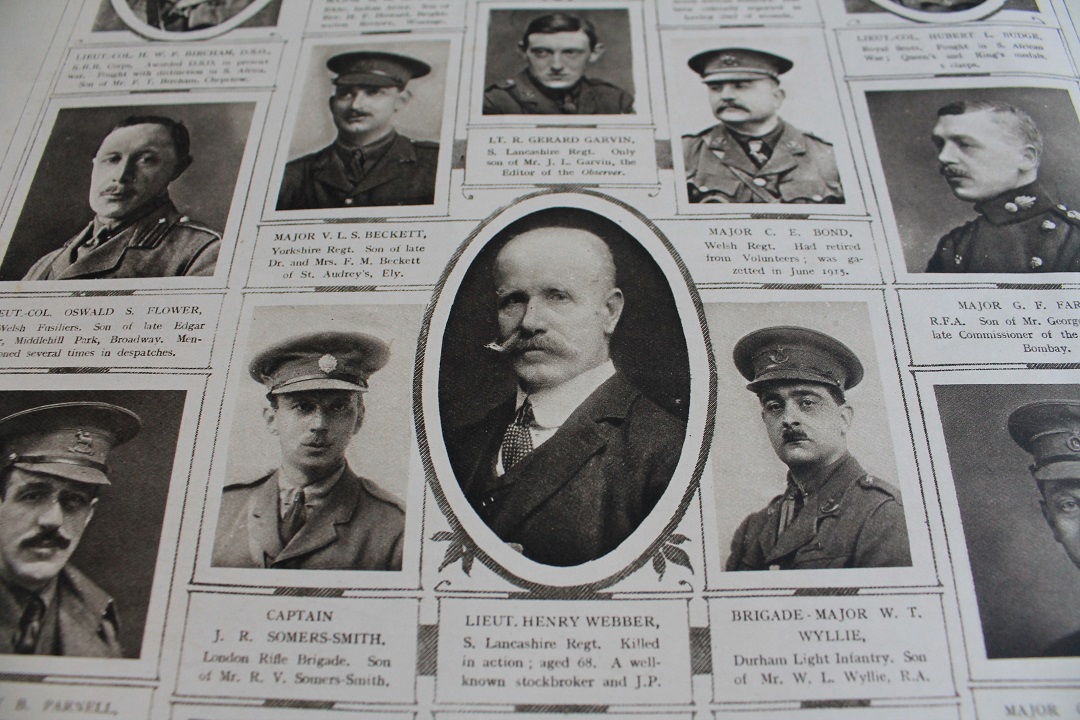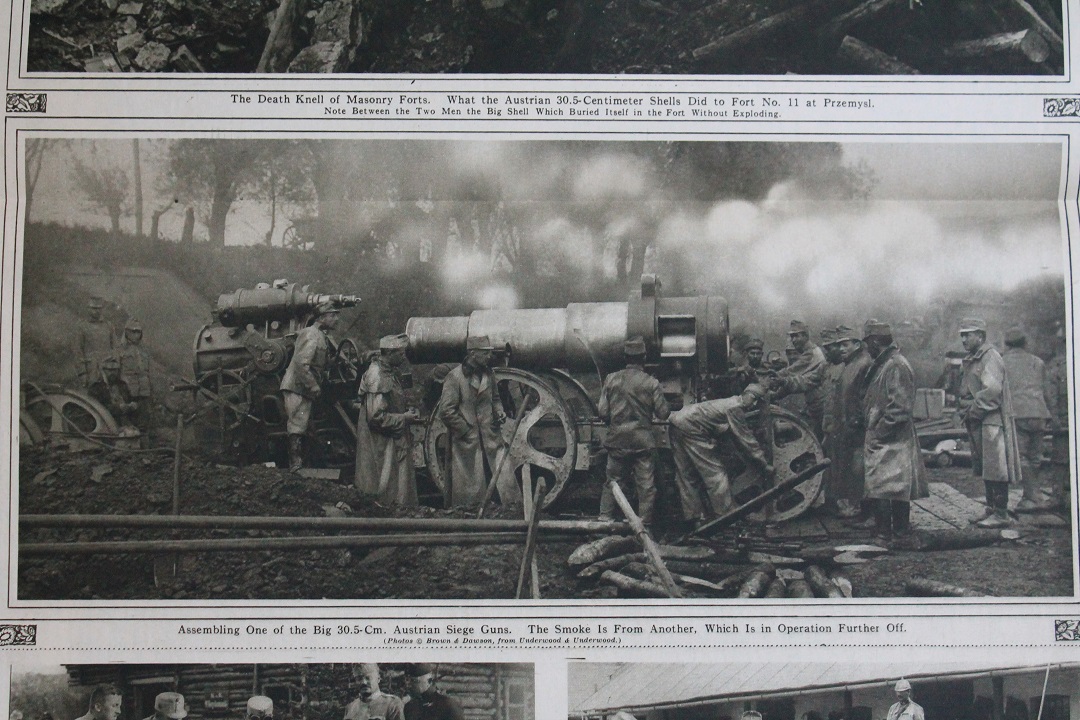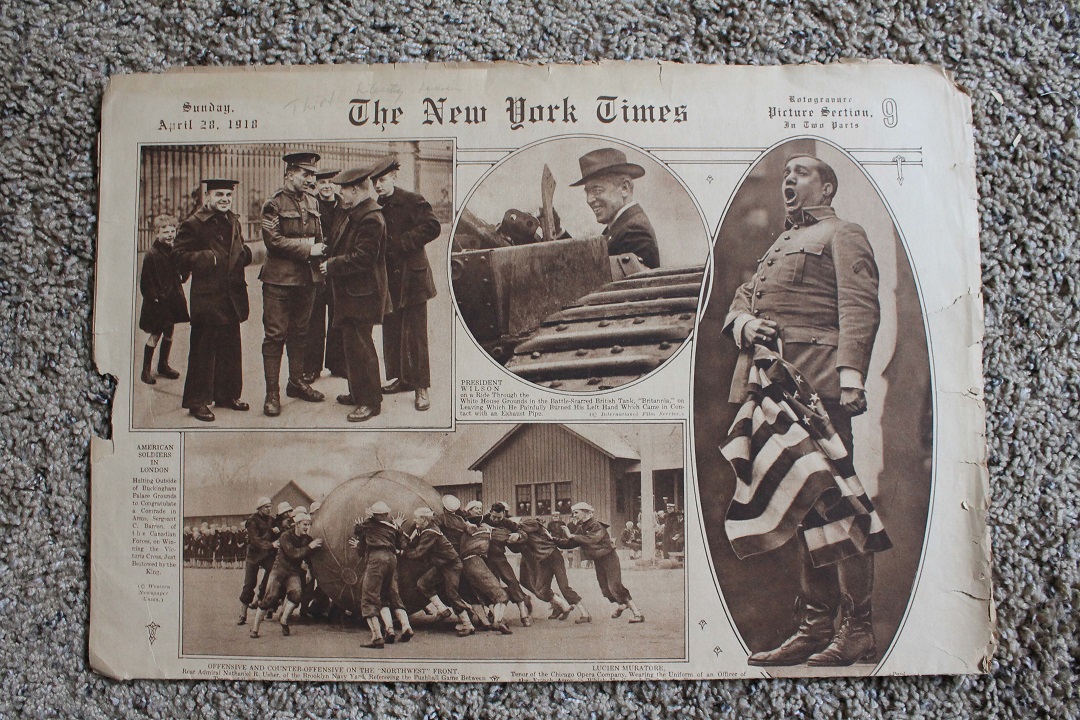 It's a family tradition of my father's family to have small reunion on the Fourth of July every year. In the summer of 2014, my grandmother arrived carrying a stack of magazines in a plastic trash bag. "These are for you, Levi!" she said. Grandma went on to explain that they were from the family of her sister's husband who lived in Estonia during World War I. They collected these magazines and newspapers during that time, and I here I am with all of these magazines and newspapers. What an honor.
All of the newspapers and magazines, or 'pictorials', are dated between 1914 and 1918; the same years of World War I. The publishers include the New York Times (newspaper), The New York Times: Mid-Week Pictorial, The Graphic (London), The Times (London) and The Illustrated London News. The newspapers contain your typical weekly reading - births, deaths, marriages, for sales, killed in actions, entertainment, motor-cars for sale, the stock exchange, market prices, advertisements, and more. The pictorials are covered in, as expected, pictures. The images mostly contain captioned photos or drawings from the war front, and also include special biographical exerts on officers and commanders, as well as a unique "Officer Honor Roll" featuring officer descriptions and portraits. Both the newspapers and pictorials are riddled with advertisments.
World War II Canvas Bag (Family)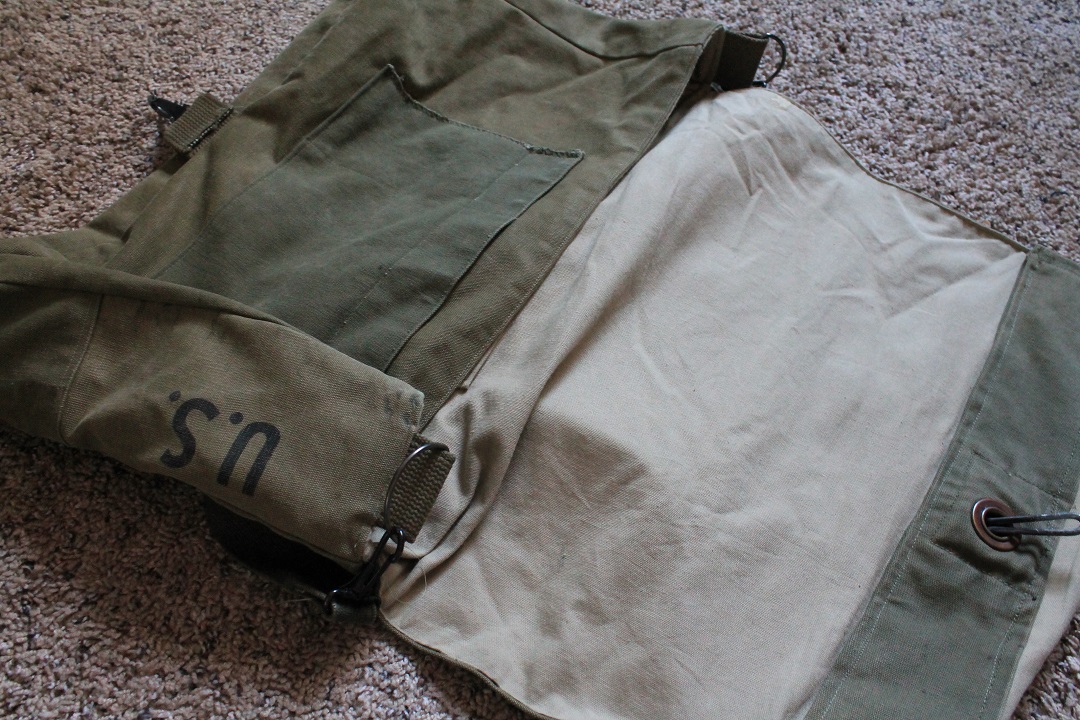 This bag was made by my aunt. My grandfather did not fight in World War II, but was drafted to the Army when he was 20 (I believe) and was on his way towards Japan when the war ended. The extent of his time on the war front was guarding some prisoners. When my grandpa passed away, he left behind several of his pieces from his time in the military, including a canvas duffle bag issued to him. My grandmother passed this to my aunt, who sewed the worn bag into a refurnished satchel and gifted it to me as a birthday present. The bag is very special to me; especially with the family name written on it.
World War II Handbooks & Manuals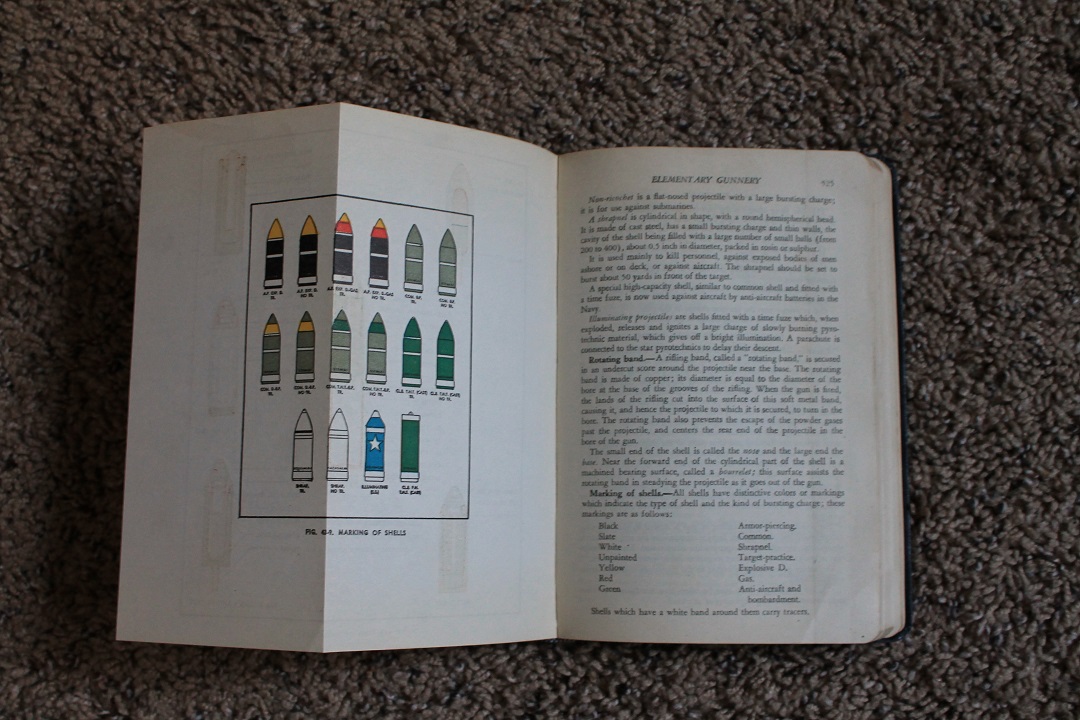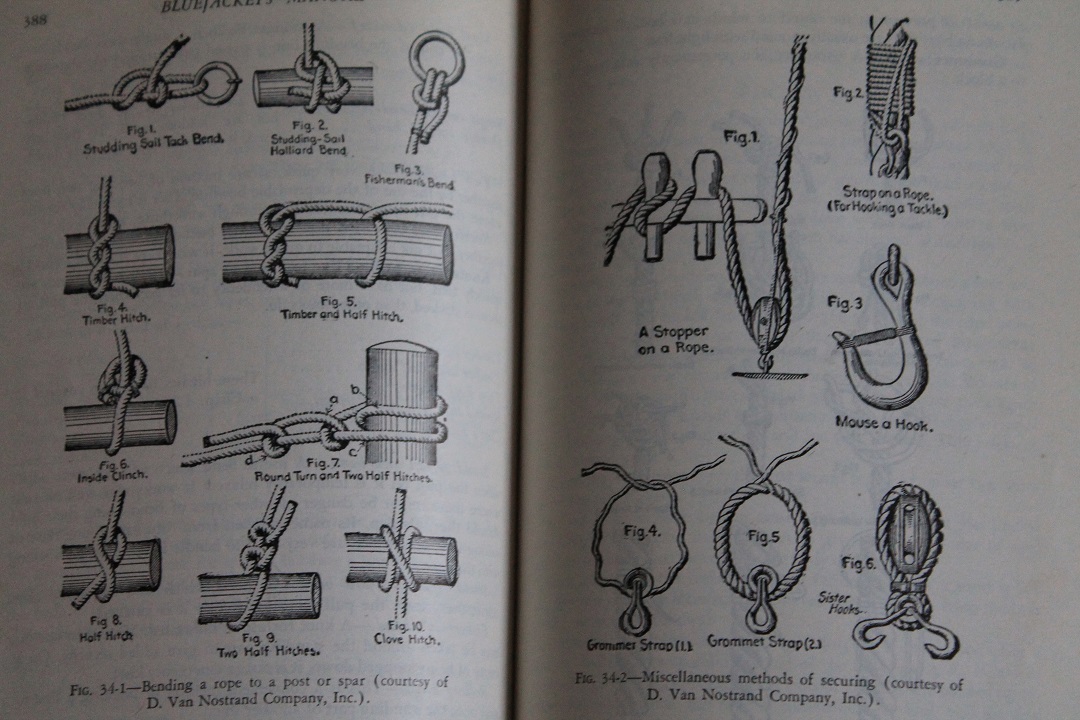 The bluejackets manual was gifted to me from my brother Nathan. Nathan spends a lot of time at pawn/thrift stores, and came upon this book for a cheap price. I think it's so cool. The Navy Bluejackets Manual is the basic handbook for Navy personnel. Dated in 1940, this manual features methods for tying rope, pictures of flags, ships, and isignia, proper use of basic equipment and apparrell, and more. It's packed with information, and is a great relic from the war era.
Iwo Jima Photo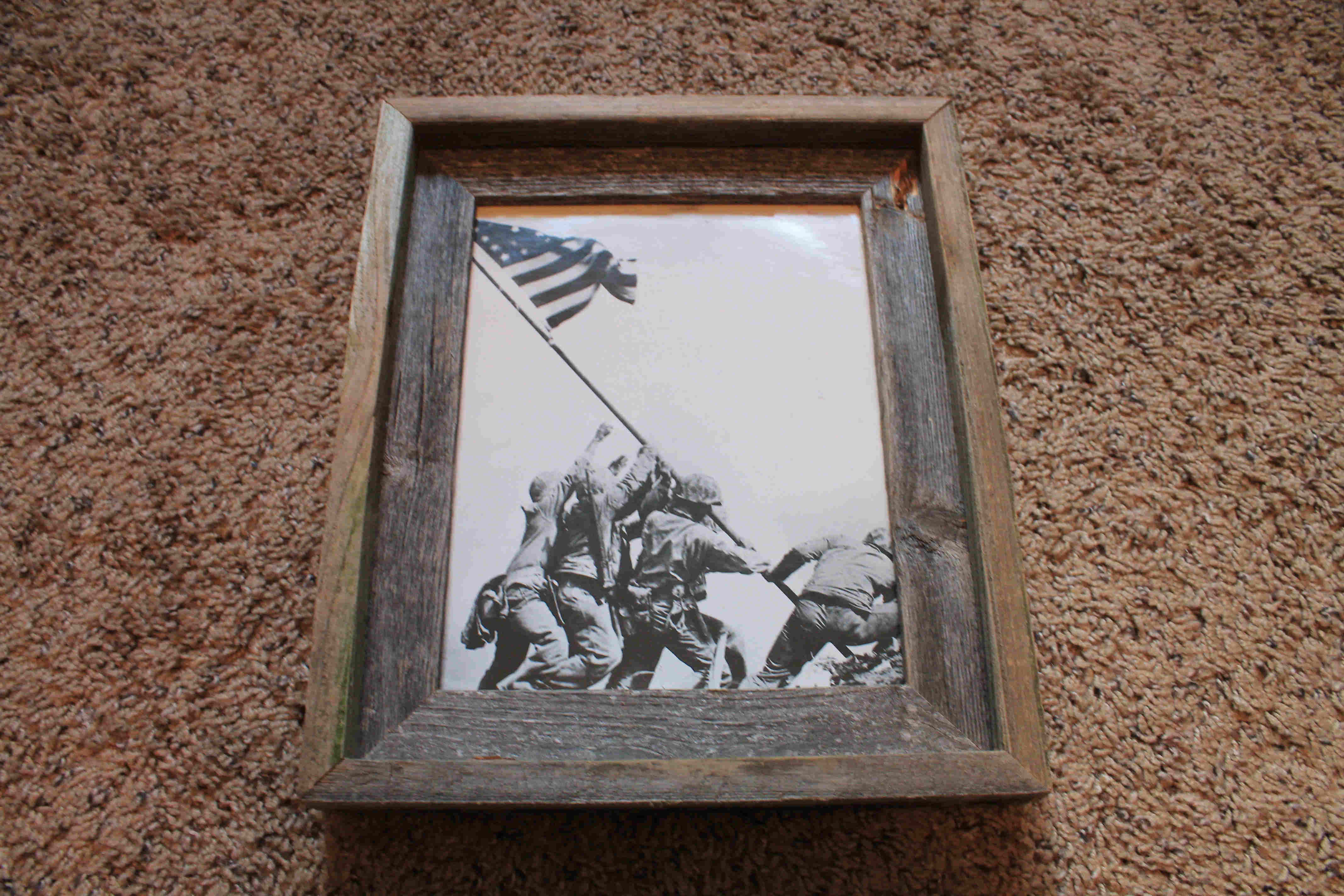 Above is a framing of the iconic Iwo Jima flag raising photo. Perhaps one of the most reproduced photograph's in all of history, the photo depicts six U.S. Marines raising the American flag atop Mount Suribachi during the Battle of Iwo Jima in World War II. The photo became an instant hit back in the U.S. Three of the soldiers in the picture were killed in action in the next few days, and the other three returned home as celebrities. Some handled the publicity better than others, and each of the three survivors carried the photo on their hearts until the day they died. The book Flags of Our Fathers tells the true stories of these six men.
Besides that, there is nothing particularily unique about the photo I have. The photo was given to me by my grandpa Ken before he passed away; I think he had removed the printout from a Time magazine issue. Regardless, it remains as a powerful reminder of the lives lost in World War II and the struggles many faced upon returning home.
Military Boxes
I own a few military/vintage boxes that I have received over time. Both the wide wooden crate and the metal ammo can seen in the pictures above were from my grandma Ann. They were my grandpa Ken's, left over from his time in the service. When he passed away, grandma found them in his farm shop and gave them to me as a gift. Grandma Ann has been a huge help to my collection, and if I had a list of sponsors, she'd be on it.
The wooden box with the bandolier rounds in the middle picture is from my brother Jake. He used it for a time as a step stool into his hot tub. Sad! I can't verify if this is an authentic war era crate, but nonetheless it looks great with my collection as something to set other displays on top of.
The footlocker in the bottom right picture was a donation from my good friend Walker's dad! I don't know a whole lot about it yet, but there is a U.S. stamp on the top side. I will look more into it later!
1960-1980 Goggles & Lenses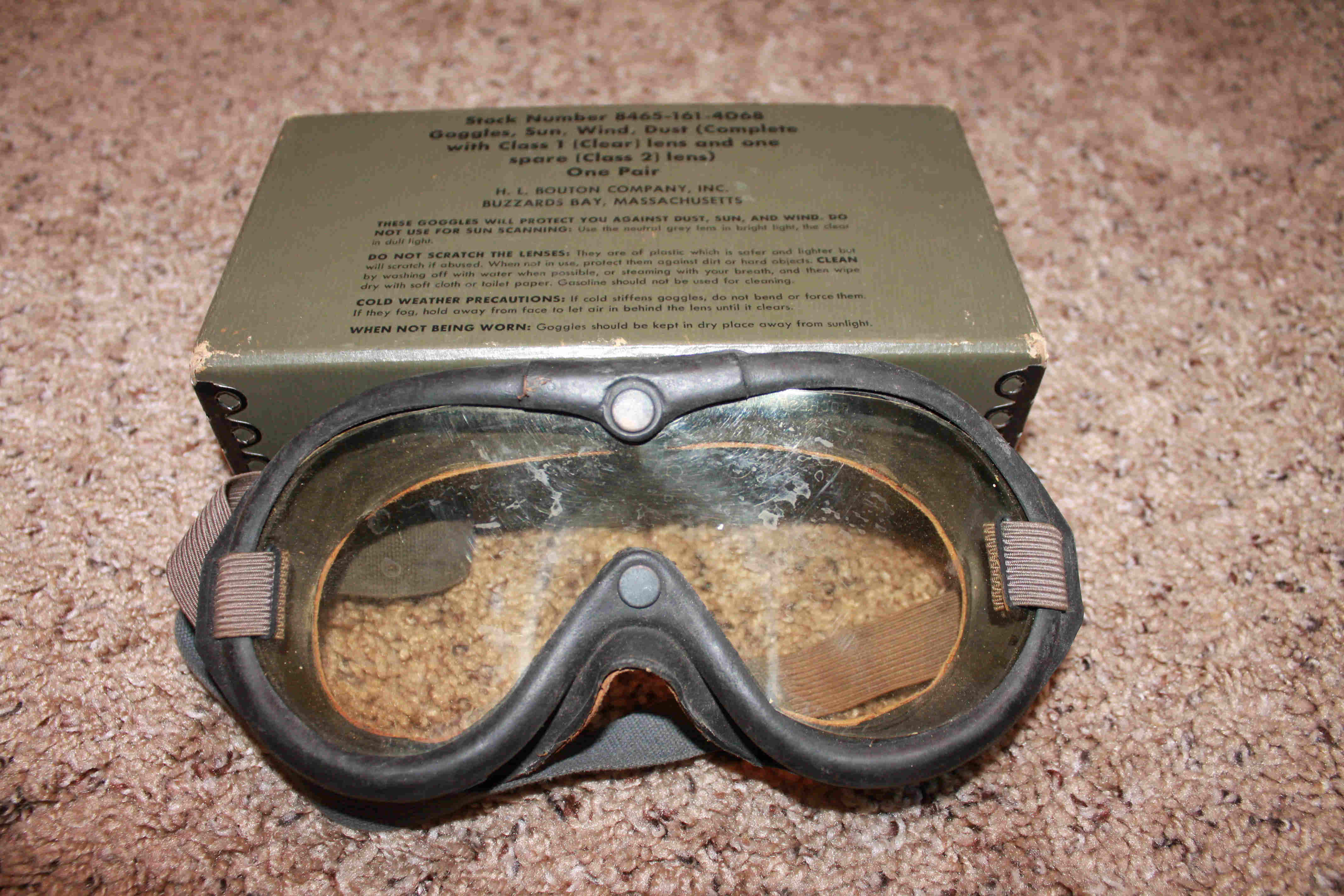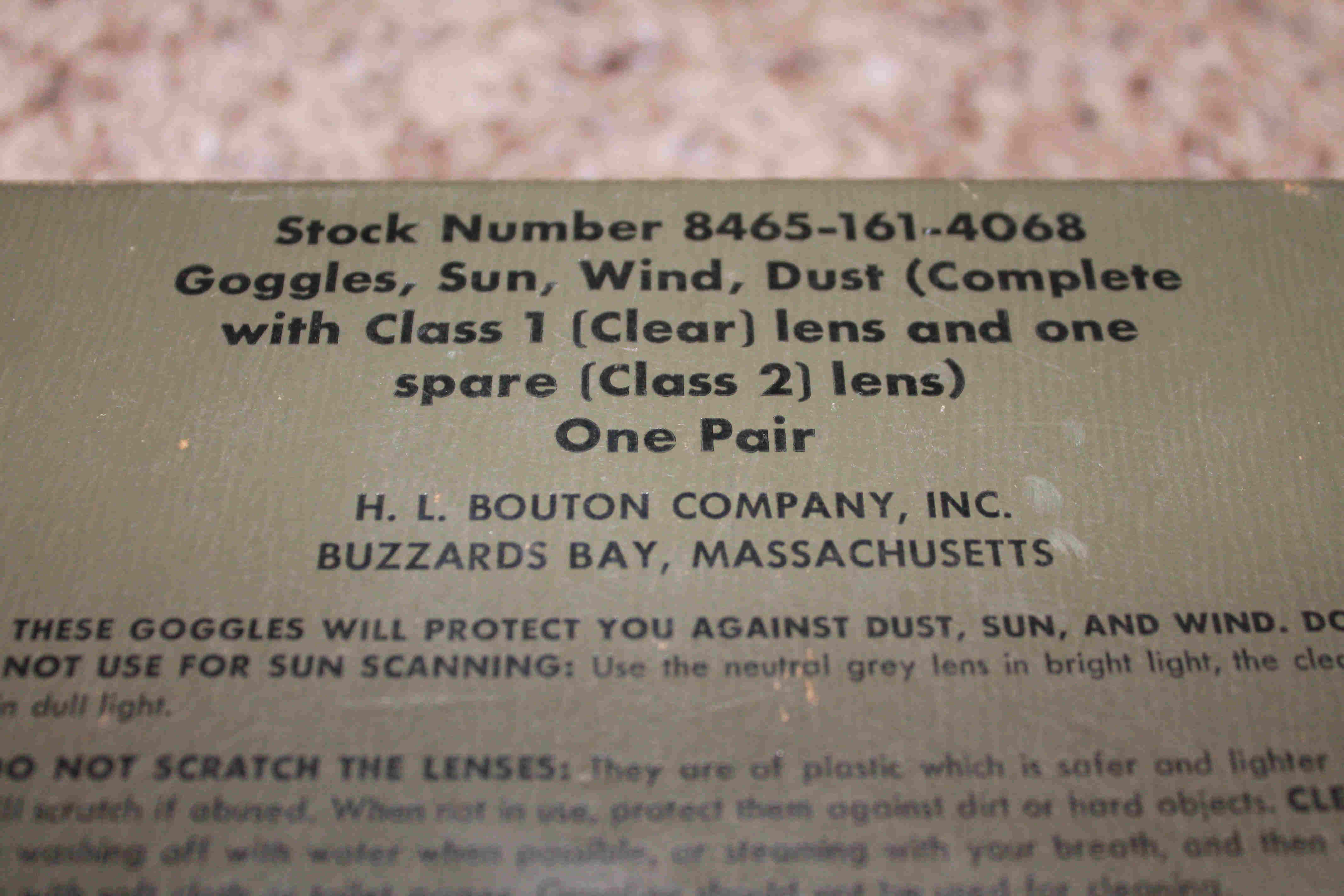 The goggles and lens set above is from the Vietnam era. I received this set from a deal on Craigslist from a man who had been in the Army Reserve for some 40+ years. I'm still investigating the actual manufacturing date of this pair, but this M1944 model saw limited use in World War II and extensive use in the sequential Vietnam and Korean wars. Included with the goggles are seperate lens for dust, night, wind, sun, and more. They are very unique.
Vietnam-era combat pack, bandages, water container, and flashlight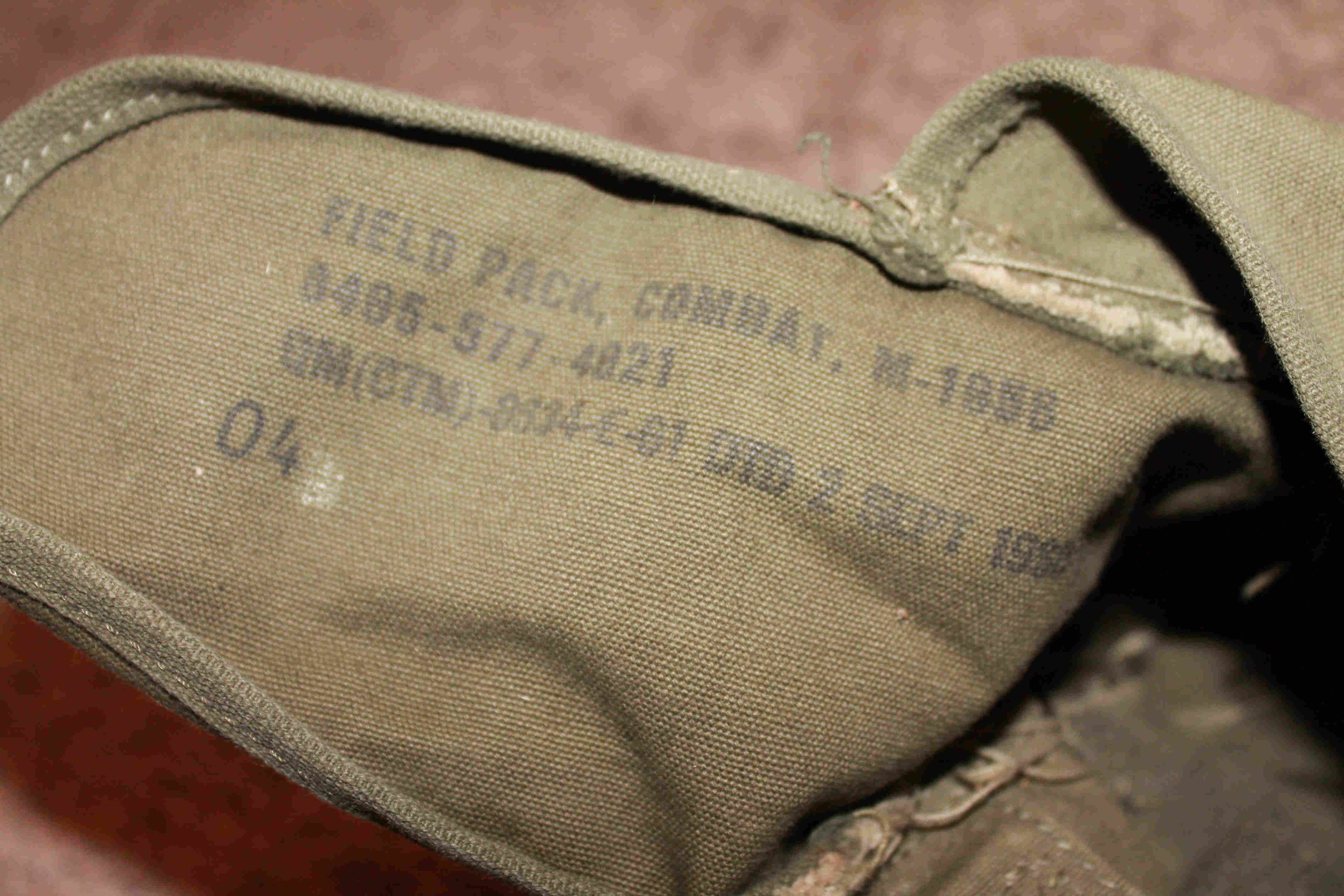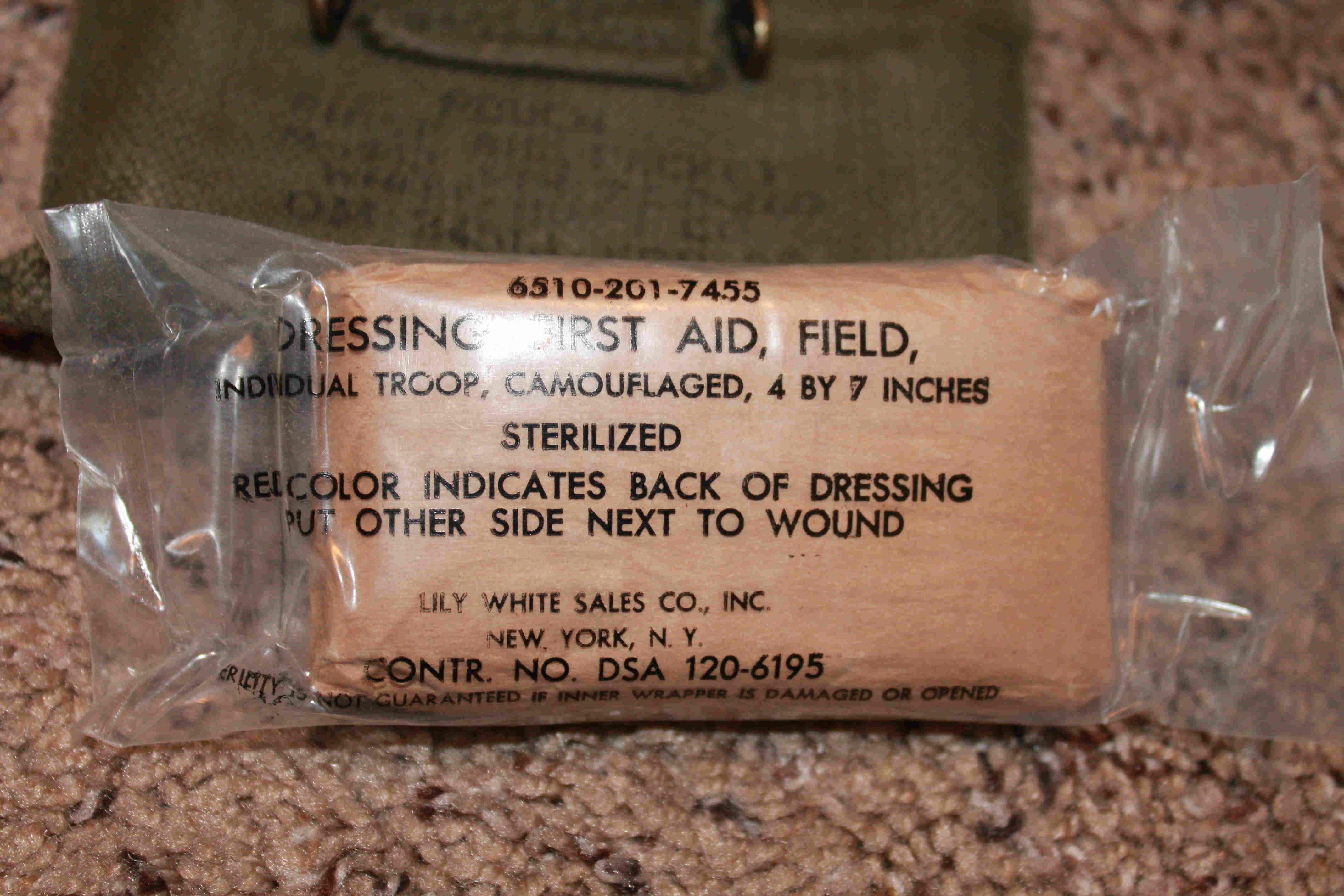 These are also from the same deal on Craigslist as the goggles set above. This set is more modern than many of the other items in my collection, but it still sports the authentic army green and 'U.S.' brand you see on many kid's costumes and reproductions today. Items like these saw extensive usage throughout the Vietnam war.